Harvard Tops Off Longfellow Hall Renovation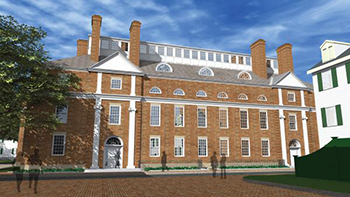 WEST CAMBRIDGE, Mass. — Harvard University marked a significant construction milestone in mid May with the topping off of the Graduate School of Education's (HGSE) Longfellow Hall renovation. The redesign and vertical expansion project will create a new fifth floor to the currently four-level building, adding new flexible meeting and classroom space to the historic campus.
Baker Design Group of Boston served as lead architect for the 14,250-square-foot renovation, as well as the 4,600 square feet of new penthouse space. In addition to expanding the building's useable space, the project will also improve Longfellow Hall's existing infrastructure and accessibility. However, it will primarily allow for the relocation of several academic programs currently housed in leased spaces, advancing the university's goal of creating a more cohesive campus.
Numerous internal improvements include upgrades to the building's mechanical, electrical, plumbing and life safety systems. Thanks to the integration of new green and sustainable technologies, the redesign is also projected to reduce the building's greenhouse gas footprint by 6 percent, bringing its overall reduction to 27 percent since 2006. The project is currently targeting LEED Gold certification.
Despite its new modern features, designers made sure the vertical addition will blend well into its surroundings, and compliment Longfellow Hall's existing façade in scale, design and material. Construction of a temporary roof system will also ensure the project does not encounter any water infiltration to the floors below, and interior preservation work will help maintain the building's ornate interiors.
The red brick structure was originally designed by Perry, Shaw and Hepburn in 1929, and was acquired by the HGSE in 1961 from Radcliffe College. To that point, the HGSE had been spread across several 19th century frame houses, as well as one 1840s era building still in use today by the university's Science Center. Extensive renovations were completed on the building after its purchase, creating new classrooms, office space and a lower level library. The building is currently home to the HGSE's Academic Affairs Office, Admissions, Career Services and other departments.
The Longfellow project itself is part of a multiphase HGSE campus master plan prepared jointly by Baker Design Group and Harvey H. Kaiser Associates Inc. (HHK). According to HHK, the highly interactive campus planning process included frequent meetings with a university steering committee, as well as multiple members of the planning staff and broader campus community.
The first phase of the three-phase master plan project aimed to consolidate existing facilities by improving space utilization. This entailed the construction of several new structures, enabling the HGSE to move away from leased buildings. Various planning options were developed throughout the following phases, and resulted in the summer of 2011 with recommendation implementations. Construction on Longfellow Hall began in late 2013, and is targeted to last through December 2014.
BOND of Everett, Mass. was selected to serve as the project's construction manager. Like Baker Design Group, BOND also has experience working with Harvard, having successfully completed the university's 510,000-square-foot Northwest Science Center in 2008, and the 180,000-square-foot student housing development 10 Akron that same year.