ASU Names Stadium Design, Construction Team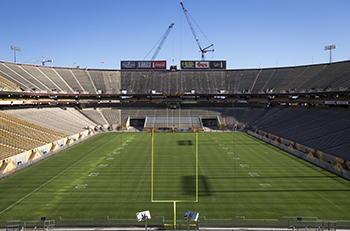 TEMPE, Ariz. — On August 7, Arizona State University announced the architecture and construction firms that will help bring the new Sun Devil Stadium to fruition. The $162-million project will include numerous partners, as well as a complete reconstruction of the lower stadium bowl, and new concessions, restrooms and luxury suites.
ASU named HNTB Corp. of Kansas City, Mo. and Gould Evans of Phoenix to design to new facility, while joint venture of national firms Hunt Construction Group and Sundt Construction Inc., Hunt-Sundt, will serve as the project's Construction Manager at Risk. All firms have considerable experience in sports building and education construction.
"We have reached an important milestone in the reinvention of Sun Devil Stadium," ASU Vice President for Athletics Ray Anderson said in a statement naming the project partners. "Today's announcement means we are shifting gears and that the vision starts being transformed into concrete plans."
"Gould Evans has a wealth of experience working with ASU, and HNTB is simply one of the best firms in the country at stadium design," added ASU's University Architect, Edmundo Soltero. "We believe we have the team in place to do something extraordinary."
"Arizona State University is setting benchmarks for innovation, excellence and sustainability and we are honored to be a part of this important project," said Gerardo Prado, a principal with HNTB, in a statement. "Football stadiums are part of the collegiate experience and we look forward to playing a role in helping people see what a world-class university does with its public venues."
Sundt Senior Vice President and Southwest District Manager Marty Hedlund is also confident in the experience Hunt-Sundt will bring to the table. "Our concrete expertise and the ability to self-perform within the design, planning and construction phases gave us a competitive advantage in the selection process," said. "Self-performing the majority of the work allows us to not only keep costs down, but also maintain a high degree of quality control that aligns with our sustainable design and construction principals."
According to a release issued by the university, while final design is just beginning, the project will focus on sustainability, technology and innovation. Enhancements in the stadium are expected to improve both the athlete and fan experiences, and include an expanded student section, a new concourse, better seating, more restrooms, improved concessions, a premiere video board and sound system, in-stadium technology, extensive accessibility improvements and an air-conditioned club, along with other amenities.
Demolition off specific areas within the existing the new stadium is currently underway, and new construction is expected to begin in early 2015, with construction being completed in 2017. The project will be conducted in phases while the Sun Devil football team continues to play its regular seasons in the stadium. Funding will come primarily from private donations, naming rights and revenue created by the development of a new nearby athletic facilities district.
Sun Devil Stadium was originally designed by Edward J. Varney Associates and constructed by F.H. Antrim Construction Company. Over the years the stadium has hosted numerous big-ticket events such as the Super Bowl, the Fiesta Bowl and NFL games, and has appeared in several movies. The last major renovation to iconic structure came in 1988 when 1,700 seats were added to bring the facility to a capacity of 71,706.