University of Florida Residence to Support Entrepreneurs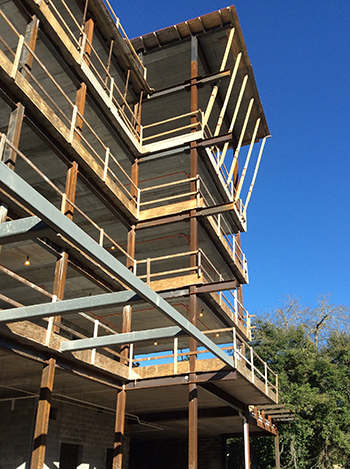 GAINESVILLE, Fla. — Construction on the University of Florida's (UF) new 97,000-square-foot Infinity Hall marked an important milestone on Jan. 30 when the structure reached its full height. The construction team of Brasfield & Gorrie of Jacksonville, Fla., celebrated the event alongside school officials with a topping-out ceremony.
"Now that we have completed the building's structure, we get to start on the intricate details that will make this innovative living-learning center a home for UF students," said Chris Gregory, project manager at Brasfield & Gorrie, in a statement.
An entrepreneurial-based academic residence community, Infinity Hall is the result of a public-private partnership between the university and the Jacksonville office of Shanghai-based real estate development and construction management firm Signet Development. Through a services and affiliation agreement with the University of Florida, Signet Development will develop, finance, own and manage Infinity Hall, representing the first privatized development within the 40-acre community known as Innovation Square.
UF's Innovation Square is an urban research district that brings business, science and academia together with residential life in an effort to foster innovation and strengthen the community's economic and cultural viability. As Infinity Hall is geared specifically toward forward-thinking students, and with its close proximity to campus amenities and academic resources, both UF officials and Signet Development representatives hope it will serve as a birthplace for new ideas and innovations.
"Infinity Hall is the first private sector finance project to arise from the vision of the public-private partnership that defines Innovation Square," said UF President Bernie Machen in a statement. "Infinity Hall is the first residence hall in Gainesville — and among only a handful in the nation — designed for young entrepreneurs who mean so much to our future as a community and as a country."
Different from other campus housing facilities, Infinity Hall will offer all the tools and resources necessary for students to begin their entrepreneurial journeys. The interdisciplinary living and learning center will serve as a connector between students' academic coursework, internship experiences, professional and peer mentorship and experiential learning, creating an environment that supports academics as well as business incubation. It will also be the first residence hall that allows students to use university housing as the base of operations for a small business.
When completed, the five-story, $23 million Infinity Hall will house more than 300 UF students in eight single rooms, 16 single suites, 48 double suites and 20 quad-suite residences. Lounges, kitchens, laundry facilities and recreation rooms will also be included. In addition to these residential amenities, Infinity Hall will offer a number of collaboration spaces and teaching areas on the ground floor, as well as a 3-D printer, to promote idea generation and creativity.
Infinity Hall was designed by the Atlanta office of global architecture firm Perkins + Will. Work on the building began in October 2014, and the project is currently on track for a fall 2015 opening.