University of Illinois Launches Major Solar Project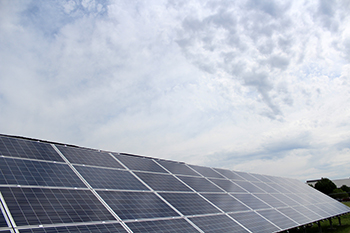 CHAMPAIGN, Ill. — The University of Illinois at Urbana-Champaign will soon be home to one of the largest on-site university solar arrays in the country, according to U.S. Environmental Protection Agency statistics. Construction of a 5.87-megawatt (MW) solar farm will begin this spring, with substantial completion scheduled for fall 2015.
State officials approved 10-year power purchase and land lease agreements with Phoenix Solar South Farms LLC, the San Ramon, Calif.-based company that will design, build, operate and maintain the solar farm. The project site is situated on 20.8 acres of land. Once installed, the arrays will produce 7.86 million kilowatt-hours (kWh) per year, which is approximately 2 percent of the expected electrical demand for the Urbana campus in fiscal year 2015.
The total cost of the project is estimated at $15.5 million over 20 years, which represents a $5.3 million premium for clean energy ($1.05 million provided by the Student Sustainability Committee and $4.25 million from the Campus Utilities Budget). Solar energy researchers on campus estimate that the solar panels will continue to collect energy for up to 40 years.
The Urbana campus will use all of the electricity generated by the solar farm. The university will also own or receive any and all current or future renewable energy credits and emissions credits associated with energy from this project.
"The solar farm represents the success of numerous efforts, including those made by the many hard-working students committed to advancing renewable energy and environmental sustainability," said Amy Liu, chair of the Student Sustainability Committee, in a statement. "Its construction will be a historic project and a source of great pride for the campus."
The university committed to being a leader in sustainability when it signed the American College and University Presidents' Climate Commitment (ACUPCC) in 2008, pledging to achieve carbon neutrality by 2050. In 2010, the university also submitted its Illinois Climate Action Plan (iCAP) to the ACUPCC. The iCAP set target goals to have 5 percent of total campus energy come from renewable sources by fiscal year 2015 (2 percent of which will come from the solar farm).
The solar farm will be the fifth completed solar-energy project on campus, according to Steve Breitwieser, the university's manager of communications and external relations for facilities and services. Most notably, the Business Instructional Facility's rooftop array provides an estimated 55,000 kWh of electricity per year, or 5 to 7 percent of the building's annual energy consumption. A solar PV study published in 2011 at the university found that Champaign-Urbana receives an average of 4.74 kWh per square meter per day of solar radiation.
"This is a new type of project for the campus, with a power purchase agreement and lease agreement for renewable energy generation," Breitwieser said. "There were a lot of unknowns when project discussions started in 2011. We were able to address the questions and end up with the solar farm thanks to the commitment of a dedicated team of individuals working together from across campus."