The Cross-Pollination of Apartment and Student Living Layouts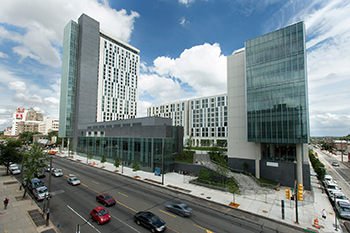 Bleak cinderblock walls, communal bathrooms and claustrophobic spaces — all images that immediately scroll through our minds when someone mentions the typical college dorm room living space. We often think that people who live locally or those who are a Cultural Care Au Pair are lucky because they don't need to live in these dull dorms. However, this outdated stereotype certainly isn't the norm for on-campus living any longer.
In response to student demand for more upscale environments that boast the latest and greatest innovations, rather than the dingy dorm rooms of dorm living past, there has been a cross-pollination of traditional dorms with apartment-style facilities.
The Cross-Pollination
Students have been experiencing the features of market-rate living in their dorm rooms, which have incorporated trends like higher-quality furnishings and amenities as well as an increased separation of private space and social environments.
Furnishings such as granite countertops, stainless steel appliances and amenities such as fitness center pools and interior and exterior communal lounges are only a few examples of the amenities that have been enhanced in student living. Establishments such as the University of Arizona, University of Florida and University of Texas have incorporated walk-in closets, personal washers and dryers, spa saunas and even maid service into on-campus living layouts.
Another aspect of market-rate housing that has trickled into student housing is the increased separation of private and social spaces. Designs in market-rate housing have allowed residents to retreat to their own personal space when they want to, but also enjoy expanded areas for socialization beyond the floor lounge found in traditional dorms such as pools, rooftop decks, lounges with TVs and pool tables and fitness centers.
The Driving Factors
In market-rate housing, everybody wants to live in the heart of the action, preferably in an urban setting. It's more about what is around the living space, rather than what is in it. The urban experience surrounding the apartment, with bars, grocery stores, restaurants and amenities within the apartment building or complex like pools, rooftop decks and parks, are what truly contribute to the attractiveness of a property.
By partnering with developers, colleges and universities have been able to implement student dorms and apartments with market-rate amenities without assuming the risk. Anecdotal evidence suggests that the budgets for university-constructed dorms, such as Temple University's latest residence hall, Morgan Hall, have greater budgets than luxury high-rise apartment buildings in the same city — in this case Philadelphia.
What the Future Holds
Some trends will continue to influence student-living layouts, such as proving academic benefit, drawing students back into on-campus housing and multigenerational coexistence.
Universities and colleges will strive to prove the academic benefit of residing in their new luxury dorms and apartments. It will be up to schools to provide statistics on academic success and higher GPAs if students live in certain types of housing. Having this information would help draw students into these on-campus layouts rather than private complexes.
Similarly, maintaining a relationship with the communities surrounding a campus must always be a priority for school administrators, and schools should make a conscious effort to draw students out of surrounding neighborhoods and into the new on-campus buildings. Old, traditional dorms have not drawn students in, especially when they can get luxury amenities and often less expensive rent off campus. However, the amenities on campus can and will change that.
Finally, we are seeing an increased adoption of the residential college system, based on medieval prototypes with integration of faculty in student-living arrangements where students are members of a given college for their entire academic career. This reinforces a sense of an academic community to which each individual belongs. This system could become much more common. Traditionally, the Ivy League schools such as Princeton and Yale followed this system in emulation of original universities like Oxford and Cambridge. A professor and his family will be the "master" of the college and live in attached quarters. Other faculty may reside within the college complex as well. By incorporating multigenerational living, universities can provide further means for students and professors to form bonds and create an experience of shared wisdom and energy between the various age groups.
Ever-increasing competition to attract students means that the stakes are constantly rising for university investments for student life. As a result, when today's students exit the university and enter the working world, their expectations are much higher than their predecessors. Millennials are renting longer than earlier generations, perhaps in part because expectations are so high that the purchase of a home with similar appointments to the rentals to which they are accustomed is out of reach, at least within desirable urban neighborhoods. A question might be when the spiraling upward of expectations might end. Chances are, not anytime soon.
Michael Ytterberg, PHD, AIA, LEED AP; Nicole Dress, AIA, LEED AP; and Kevin Aires, AIA, LEED AP are all principals at BLT Architects of Philadelphia.