New $96.5 million Ole Miss Basketball Arena Hosts First Game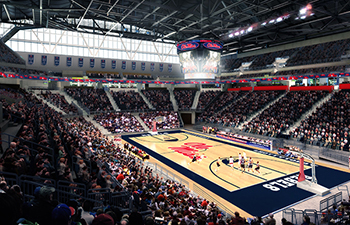 OXFORD, Miss. — The University of Mississippi (Ole Miss) Rebels played their first game against Alabama in the new $96.5 million The Pavilion at Ole Miss on Jan. 7. The new multi-purpose facility is home to both the men's and women's basketball programs and will serve as a venue for graduation ceremonies, concerts and other university events.
Comprising 225,000 square feet, the state-of-the-art arena seats 9,500 fans and features a full basketball court and locker room suites for players, athletic coaches and officials. It also includes more luxurious amenities such as a private student concourse, courtside and baseline student seating, three premium club areas — the Courtside Club, the All-American Club and the Pavilion Club — more than 1,700 premium seats and an intimate seating bowl. Spectators can even watch the action on the largest center-hung video display board in all of college sports, or enjoy the cutting-edge, fiber-enabled Wi-Fi lounge.
The facility was designed by AECOM Technology of Kansas City, Mo.; BL Harbert International located in Birmingham, Ala., served as the project's general contractor.
The Pavilion at Ole Miss is intended to serve as the centerpiece of the Ole Miss Athletics Foundation's Forward Together capital campaign, according to a statement by AECOM. Located adjacent to Vaught-Hemingway Stadium (which is also undergoing an AECOM-designed expansion and renovation), The Pavilion anchors an updated athletics complex near The Grove, the university's central open space and renowned tailgating location.
Additionally, the proximity of the facilities is intended to build synergy between football and arena operations and boost the game day experience for fans. The Athletics Foundation worked with AECOM to maximize opportunities for fan engagement, premium seating experiences, sustainable revenue sources, student involvement and campus engagement, according to a statement by the company.
"AECOM provided an integrated perspective with market and economic analysis, long-term cost planning, extensive sports experience and exceptional design," said Keith Carter, senior associate athletics director and executive director of the Ole Miss Athletics Foundation in a statement. "We're very proud of their contributions to our facility projects and look forward to The Pavilion becoming a cornerstone of campus life."
Structurally, the facility consists of a three-story steel frame supporting steel trusses. A curved, colonnaded entrance featuring Doric columns greets visitors at the arena's entryway, a nod to Ole Miss' southern traditional architecture style. A barrel roof with a grand clerestory window wall helps introduce natural light into the seating bowl, which is visible from both the main concourse and the mezzanine level. Retractable lower seating allows for large group lectures and convocations on the event floor, and the north entry can double as a food court on non-game days, according to a statement by AECOM.
ACI Building Systems LLC of Batesville, Miss., supplied the arena's durable, weather-resistant UltraLok Roof system, which was coated with Fluropon by Valspar in a terra cotta hue.
"We are excited to work on such a high profile project in conjunction with ACI," said Tommy Rogers of Chattanooga, Tenn.-based Rogers Steel Company, which provided metal panels for the project, in a statement issued by Valspar. "The 22-gauge galvalume substrate on this job, paired with the Valspar Fluropon coating, is not only aesthetically pleasing, but offers a premium roofing system fitting of this project."