Construction Underway on New Sunset Ridge School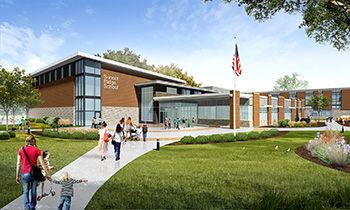 NORTHFIELD, Ill. — Construction crews officially broke ground on a new 70,000-square-foot school for Sunset Ridge School District 29 in Northfield on April 14. The new facility, located 20 miles north of downtown Chicago, will serve approximately 300 fourth through eighth grade students and is expected to open in August 2017.
The design and construction team of Chicago-based Wight & Company and Pepper Construction, also based in Chicago, joined students, parents, teachers, administrators and local officials to celebrate the groundbreaking.
"This school will be a tangible symbol of the community's care and commitment to its children's education," said Leanne Meyer-Smith, vice president of architecture at Wight & Company, in a statement. "The aesthetic for the new Sunset Ridge School is very contextual to the neighborhood. We have incorporated elements and building materials that echo the warm, natural tones you see throughout the homes in Northfield."
The centerpiece the new school's design is a "village square" complete with performance and dining space and surrounded by "academic neighborhoods" that will be organized by grade level, physical education and music areas, according to Wight & Company. The design is intended to help foster a sense of unity. The building will also seek LEED certification, and will contain a library and learning center in the academic wing complete with a makerspace and science and language laboratories. Breakout rooms throughout will help facilitate individualized learning, and natural lighting will be used prominently throughout the interior spaces.
"We are thrilled to be embarking on a project of this stature that allows us to build a state-of-the art facility from the ground up," said Superintendent Dr. Edward Stange in a statement. "The educational benefits to our students are outstanding and range from a much improved and larger gym facility, a dedicated theatre space and a variety of 21st century focused educational spaces. This new building will be an exceptional community asset for years to come.
"This is what we call 'a future ready learning environment,'" Dr. Stange continued. "The process of learning in the school environment has evolved. It's much more collaborative, interactive and technology-based, and this trend will continue, so we have to design learning spaces that can adapt to changing curriculum."