Q&A: Lake Mills Elementary Participates in LEED v4
LAKE MILLS, Wis. — Construction on the 95,000-square-foot Lake Mills Elementary for the Lake Mills Area School District (LMASD) in Wisconsin was completed in September 2014. It is one of only 122 projects participating in the LEED v4 beta program, which involved an extra level of detail in order to incorporate strict energy-reduction strategies and incorporate a more holistic approach to green design and construction.
Milwaukee-based Eppstein Uhen Architects (EUA) served as the architect on the project, while Neenah, Wis.-headquartered Miron Construction Inc. served as the construction manager. School Construction News spoke with Bob Morris, design architect for EUA, about participating in the LEED v4 beta program and how it helped create a more energy-efficient school.
Q: What is involved in being a participant in the LEED v4 beta program?
Morris: As part of LEED V4 beta, the building was held to substantially higher standards for sustainability than in previous rating systems. The new system challenged us to be more responsible in the areas of energy usage, water conservation, indoor air quality and acoustical performance, and encouraged us to consider how the building itself could be a teaching tool for future generations. By participating in the beta program, the team was able to sit down in person with USGBC representatives, providing practical feedback for the implementation of the new system and helping to shape future requirements for the next LEED program.
Q: In what ways does LEED v4 help create a more holistic approach to green design?
Morris: A holistic design process begins with an integrated design team. For Lake Mills Elementary, this meant working with the construction manager (Miron Construction) and the owner to establish a complete team including engineering trades and a sustainable engineering specialist. The team met regularly to identify goals, establish priorities and assign responsibilities.
During building design, the collaboration continued. EUA worked with the district to establish a visionary team of progressive teachers to encourage out-of-the-box thinking for improving the learning environment and establishing sustainable education processes. EUA worked with [Middleton, Wis.-based] Sustainable Engineering Group to analyze building life-cycle costs and efficiencies of building systems and components. During construction, Miron Construction took responsibility for ensuring that green goals were carried out, and independent building commissioning was performed to verify results.
Finally, LMASD and the teaching staff of Lake Mills Elementary embraced the opportunity to implement green principles. Sustainable practices have been incorporated into the educational process, and Lake Mills became the nation's first school to certify its entire staff as USGBC Green Classroom Professionals.

Q: How was sustainability incorporated into the design?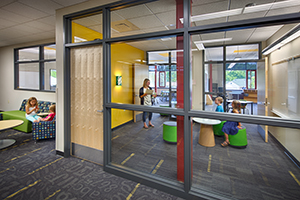 Morris: The school serves as a sustainable teaching tool, infusing environmental awareness into the design. Interactive touch-screens allow students to monitor building operations and energy usage and promote awareness of other green features, including:
• Siting & Design: Sustainable design began with a compact, two-story configuration oriented to take advantage of northern and southern lighting exposures, and minimize heating and cooling gains.
• Building Envelope: Energy modeling was used to optimize the amount of roof and wall insulation, determine the most-efficient wall-to-window ratio, analyze solar heat gain and glare, optimize daylighting and determine appropriate roof color.
• Mechanical Systems: A closed-loop geothermal system circulates liquid solution underground to increase the efficiency of heating and cooling systems.
Q: How does this school cater to teaching and learning?
Morris: The traditional classroom was replaced with a suite of interconnected spaces that allow students to work in environments best suited to their specific needs. Lightweight, durable and mobile furniture solutions encourage student movement and allow for constant reconfiguration. Corridors and spaces beneath stairs are reclaimed to create seating alcoves and casual collaboration opportunities. Integrated reading nooks and child-scaled design elements encourage engagement for a personalized curriculum delivery.
Transparency also became a key to the new design, allowing students to move about the spaces freely with seamless supervision. Learning neighborhoods are light-filled, open and transparent, eliminating environments for bullying and harassment. An unobtrusive secure-entry sequence welcomes the community in, while the learning neighborhoods are designed to be sectioned off at multiple levels in a lockdown scenario without sacrificing transparency between core learning spaces.