Window Film: A Necessary Safety Measure for Schools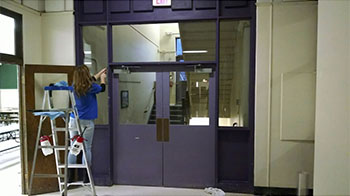 A school is meant to be a safe place for students to learn. In light of recent tragic events in our nation's schools, school leaders and construction managers are now forced to consider a wide range of solutions to improve the safety of their facilities. While security initiatives such as video surveillance and door security systems are important to incorporate into any school's design, there's one often overlooked measure: window film.
Safety and security window film is a tool that, when integrated with a well-planned system of security measures, can offer a school community both greater security and greater peace of mind. Safety and security film is a polyester-based product that, when professionally installed, strengthens a building's windows, which in turn protects the building and its occupants. Window film is used in many applications, with increasing popularity in municipal and commercial structures.
Whether you're renovating or building a new school facility, window film is a safety and security measure worth incorporating. Here are two reasons school leaders and construction managers should consider window film:
1. Anti-Intrusion
Windows and doors are the most vulnerable parts of a building. They are points of entry for people that may mean harm to the occupants. Glass is also an inviting target for vandals intent on mischief or worse. The main benefit of safety and security film is to provide an invisible shield that offers protection from broken glass and deters or delays unwanted entry. When ordinary annealed glass breaks, it poses considerable danger, but with filmed glass this hazard may be significantly reduced.
Keep in mind that the use of safety window film alone will not prevent intrusion through glass. Instead, it increases the amount of time needed to break through and can deter the efforts of the potential intruder altogether after multiple unsuccessful attempts to enter through the filmed glass.
To further increase the performance of filmed glass, consider affixing the security film to the window frame using one of the various attachment systems on the market today such as Gullwing, Lifeline or FrameGard. Attaching film to the window frame eliminates the vulnerable area where the film stops at the glazing gasket. This transfers the load or pressure typically applied to the filmed glass to the entire glazed opening, increasing the performance of the window against intrusion threats.
2. Privacy & Protection
As most schools operate during daylight hours, an intruder can still see into classrooms — even if the blinds are drawn in some cases. Each window is essentially a map to the entire school. Potential intruders can easily see in and gather details of the entire school — the hallways, media center, office, cafeteria, etc. — which makes it easier to create a plan to gain entry and target victims.
For the leaders at Ballston Spa Elementary School in New York, the decision to use professionally installed window film was a cost-effective solution that made their school safer for staff and students. With the installation of Madico's SafetyShield 800, the school now adheres to national building and safety codes. The film does not affect the performance of wired glass as a fire stop; window film doesn't get in the way of aesthetics or existing window benefits.
There are so many moving parts to a school construction project from budgetary concerns to the project timeline and the impact of an active construction site on student focus. However, the most important thing to keep in mind is the safety of staff and students. As you plan your next construction project, think about the benefits of today's security window films for the entire school community — and be sure to consult a safety film expert.
Michael Mancini is the director of marketing for Madico Inc., in St. Petersburg, Fla. Madico develops, manufactures and markets technologically advanced film laminates.
Read more about how window film can improve school safety in the May issue of School Construction News.