Old Chapel at UMass Amherst Receives LEED Gold Certification
AMHERST, Mass. — The renovation of the historic Old Chapel at the University of Massachusetts Amherst has earned LEED Gold certification from the U.S. Green Building Council. The Old Chapel reopened in February 2017 after a two-year renovation, and the LEED certification was awarded in July.
"The LEED Building program exemplifies our commitment to sustainable development principles by lowering carbon emissions associated with construction, and demonstrates our focus on healthy, energy efficient and durable construction that reduces operating costs and prioritizes sustainable practices," said Shane Conklin, associate vice chancellor for facilities and campus services, in a statement.
Built in 1885, the Old Chapel was designed by Steven C. Earle in the Richardsonian Romanesque style. The Old Chapel's original structure consists of local timber and stone such as Pelham granite and Longmeadow sandstone. Since the 19th century, the building had undergone various use-case scenarios — from being a library and an auditorium, to a natural history collections and even a marching band rehearsal space.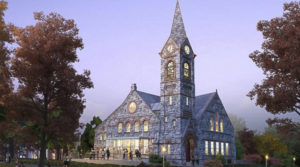 The Old Chapel was placed on the National Register of Historic Places in 2015, and work began on a $21 million renovation, addition and preservation effort to restore the building after it had been shuttered in 1999 due to structural deterioration.
UMass Amherst and the UMass Building Authority hired Finegold Alexander Architects of Boston to design the restoration with an eye to preserving the building's history as well as making upgrades align with the university's vision for sustainability. Much of the original building material was used in the revitalized building including 83 percent of structural masonry, wood columns, beams, trusses and wainscoting trim. And 82 percent of new wood products were either locally sourced or Forest Stewardship Council (CSC) certified.
The renovated Old Chapel now boasts a student study, gallery exhibitions and community events on its first floor and a Great Hall suitable for performances, lectures, receptions and weddings.
The Old Chapel renovation is the 11th project within a sustainable building program at UMass Amherst that includes 10 other facilities totaling approximately 1.155 million gross square feet of LEED-certified space. With six more registered projects undergoing certification, sustainably designed buildings are projected to make up 13 percent of the total UMass Amherst building stock.
This October, the Old Chapel will receive a commendation from the Victorian Society in America, a national, non-profit organization committed to historic preservation, protection, understanding, education regarding the nation's 19th century heritage, for its "comprehensive exterior restoration and adaptive use of the interior."
The building "was the subject of a thoughtful planning process to find a contemporary use for the structure while preserving as much of the original architectural fabric as possible," the society noted in a statement. "The goal was admirably accomplished by the subsequent rehabilitation that has met the highest standards of conservation practice."
The award will be presented on Oct. 7 in New York City. As Conklin added in his statement, "Our campus and buildings serve as an invaluable educational tool for students to learn from innovative design, construction and maintenance practices that model community sustainability."