EDspaces 2017 Encourages Designers to Learn, Unlearn & Relearn
KANSAS CITY, Mo. — The overall message from the EDspaces 2017 conference held in Kansas City last week was that technology is shaping the world at a rapid rate. And as it continues to completely disrupt the way we do business, the education spaces currently being built need to reflect that disruption in an effort to help students keep up with those changes.
Thursday's Plenary session was given by Speaker Jaime Casap, a communication skills educator at the Phoenix Coding Academy in Arizona who spoke on the importance of computer science education. "I don't want to start with the fact that education is broken, but ask what is the right education we need for the future that we face?" he asked the EDspaces audience. "Our job in education is to prepare kids for the future, but we also have to realize that the future is already here. A lot of that has to do with technology and computer science."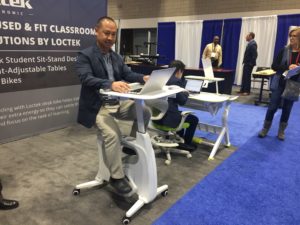 He continued by addressing the fact that cloud computing is impacting everything we do and stated that all work will soon be automated to some degree. Because technology is able to support and enable what we do, students now more than ever need to be given the opportunity to solve problems instead of being asked to simply memorize information out of a text book.
"There is a need for a cultural shift that involves converting information into intelligence," Casap said. "We need to be asking ourselves, 'How do we convert that information that [students] memorize into intelligence?'"
Casap alluded to the fact that there should be fewer discussions about what the future classroom will look like because the classroom is undergoing constant iteration, changing to accommodate each new technology or learning concept. For instance, one innovative concept from the Phoenix Coding Academy is that its curriculum uses computer science in every class or subject it teaches.
Casap's session seemed to go hand-in-hand with almost every talk at the conference. Another poignant one included a session given by Tomas Jimenez-Eliaeson, design director of learning environments for international architecture firm LITTLE. Jimenez-Eliason spoke about the idea of a transdisciplinary approach to teaching and learning. "Kids are now creating their own majors and crafting their own experiences because they're seeing problems that are not being solved by just one discipline; multiple disciplines are required," he said.
He pointed to teaching approaches in Finland where entire curriculums are doing away with individual subjects such as physics and math, and instead teaching by topic, which could apply to several subjects at once.
Craig Park, principal for The Sextant Group, also spoke on technology and how architects can design for big data. He pointed to several projects that incorporated large-scale technologies such as the Visualization Lab used for data analytics, located at North Carolina State's James B. Hunt Jr. Library. Multi-touch visualization and group wireless sharing were other technologies trending in the data world.
Needless to say, the idea of ever-changing technologies and designing spaces to be flexible enough to constantly shift with those changes were top of mind at the conference. Jimenez-Eliaeson referenced a favorite quote from Futurist Alvin Toffler: "The illiterate of the 21st century will not be those who cannot read and write, but those who cannot learn, unlearn and relearn."
As adaptation will be key in these next generations of school design, what are you doing to adapt your education spaces?