Oracle Helps See the Future of High School Design at d.tech
By Daedalus Howell
REDWOOD SHORES, Calif. — It's funny to think that a generation ago, high school heroes were depicted in the movies as those canny kids who successfully avoided being on campus (looking at you Ferris Bueller). These days, with educational opportunities like Silicon Valley's Design Tech High School in Redwood Shores sprouting up across the nation, one would be hard pressed to find a student who wouldn't want to be there.
Known by three officially approved monikers (Design Tech High School, Design Tech and d.tech), the California public charter school is part of the San Mateo Union High School District and was founded in 2014, followed by a more recent relocation to a permanent home on the grounds of technology juggernaut Oracle's corporate campus. The doors of the new facility opened in January 2018, and 550 students crossed the threshold to their STEM-centric studies. The school's signature program, however, is "Design Thinking," which is augmented with an "intersession" period when d.tech students pause their core academic classes and take a deep dive into design lab and exploration electives.
Construction of the school's new home began in 2016 with Oracle contributing $43 million toward its construction. In addition to classrooms, meeting areas and other facilities, the heart of d.tech's campus is a two-story workshop dubbed the Design Realization Garage, an homage to the many Silicon Valley companies that started in garages and to the industrial space that d.tech occupied from 2015 through 2017. There, students collaborate on projects with each other as well as their instructors and even Oracle employees who are available to mentor them and their work.
Its emphasis on technology notwithstanding, the d.tech's look was influenced — literally — from the ground up. "The shape and location of the site — a long, slender parcel of land running along the shore of the Belmont Channel with the iconic Oracle towers in the background — were significant design considerations," said Colleen Cassity, executive director, Oracle Education Foundation and Oracle Corporate Citizenship.
The school's culture was also a factor that informed its design. "The culture of d.tech — a school that is constantly evolving and iterating on its model, and that encourages its students to try things, make things and put their knowledge into action — was another major consideration," said Cassity. "The building's aesthetic is deeply informed by both sets of considerations. It's a long, sinuous building that curves to follow the shape of the shoreline. It is harmonious with the look and feel of Oracle's iconic glass buildings, yet distinct, with some earth-toned exterior materials, surrounded by green spaces planted with native species and the natural beauty of the Belmont Channel, the western shore of San Francisco Bay separating Redwood Shores and Foster City."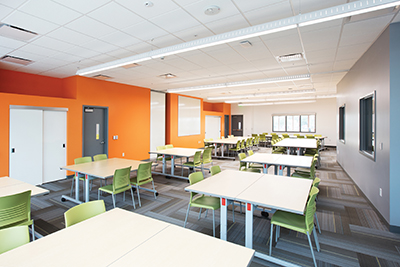 Milpitas, Calif.-based XL Construction constructed the new facility, while Redwood City, Calif.-based DES Architects + Engineers was selected to bring the project to life as the results of a design challenge, recalled Cassity. "We presented each of our four finalist architectural firms with a parcel map and a set of 24 users, namely d.tech students and staff, for whom to design a facility in 45 minutes," she said. "That was the design challenge, and DES Architects + Engineers rose to it quite naturally. They demonstrated genuine empathy with their users, as well as great creativity, and emerged as the clear choice."
Throughout the subsequent design process, DES worked closely with the d.tech staff, students and their parents. The Oracle Real Estate & Facilities and the Oracle Education Foundation engaged in intensive design charrettes and spent two years of planning and permitting thereafter. The result is a building that exemplifies user-centered design. To bring it full circle, the founding class who helped in the design process beginning in 2014 will graduate in June 2018.
To read the entire article, check out the March/April issue of School Construction News.