MADISON, Wis. — Officials from the newly-opened Wisconsin Institute for Discovery and Morgridge Institute for Research describe the new structure as very transparent.
"You can basically see through it — you can't hide in it," said Janet Kelley, communications director for the Wisconsin Alumni Research Foundation, the organization funding part of the new public-private twin buildings on the University of Wisconsin-Madison campus.
Read more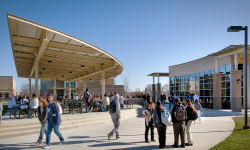 Not long ago, there was trouble, right here at River City High School. The campus in West Sacramento, a suburb of California's capital nestled near the banks of the Sacramento River, was serving nearly twice as many students as it was built to accommodate.
Read more