Sorority House Earns LEED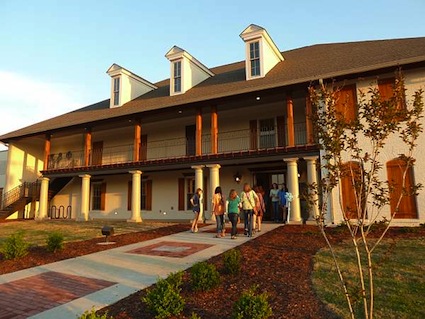 STARKVILLE, Miss. — The first sorority house in the United States to earn LEED certification, the Pi Beta Phi chapter house at Mississippi State University, opened its doors this fall to its first group of residents.
With direction from the Pi Beta Phi Fraternity Housing Corp.'s development team, the architects at Columbus, Miss.-based Pryor and Morrow Architects designed the 16,000-square-foot house to maximize open space, use indigenous landscaping and include bicycle storage. Additionally, the installed plumbing and air conditioning systems incorporate water use reduction features, with insulation and window glazing to optimize energy performance.
LEED points were also earned through the use of renewable materials and recycled content in finishes, compact fluorescent lighting, and drought-tolerant plants, which minimize water needs and allow, "lush green landscaping without the need for irrigation," according to officials from the firm.
"We are extremely proud of our new LEED-certified chapter house at Mississippi State," said Eileen Grigutis, president of the Fraternity Housing Corp. "Pi Beta Phi is committed to providing members a safe living environment for their new home."
The university's chapter has 142 members and the house has enough beds for 40 women.
Leah FitzGerald, board member of Fraternity Housing Corp. and project manager, said verifying the house through the U.S. Green Building Council ensured they would deliver an environmentally friendly home, as well as a healthy environment for future Pi Beta Phi members.
"The added distinction of being the first LEED-certified sorority in the U.S. establishes us as a leader in sustainability, an achievement in which we are extremely proud," she said.
Pi Beta Phi joined the Mississippi State University campus in the spring of 2009. The campus has a total of eight sororities.