A Harmonious Blend: Santa Maria Joint High School Transforms
Like most school districts across the nation, the Santa Maria Joint High School District wanted to bring its high school up to 21st century standards — not only to provide a contemporary learning environment, but also to help improve maintenance and operations. Following a significant transformation, Santa Maria High School in Santa Maria, Calif., now stands as a prime example of how the latest technologies and design techniques can modernize a school, while still maintaining its historic significance in the community — all for about $11.5 million.
Opened in time to welcome students for the 2015-16 school year last August, the 26,336-square-foot project added a two-story, 14-classroom building that features solar panels, strategically installed quick response (QR) codes and classrooms designed for flexibility. It also includes advanced learning spaces for the school's music department. Culver City, Calif.-based Rachlin Partners served as the project's architect, while locally based Vernon Edwards Constructors Inc. served as the general contractor. The project was completed over approximately two years.
The expansion and modernization project had three major goals, according to Michael Rachlin, AIA, founding partner of Rachlin Partners. First, the design team aimed to create a 21st century learning environment within a historic campus. Second, since the building houses the school's music department, it was important for the design team to acoustically isolate the band and choir practice rooms from other classrooms. Lastly, the design team aimed to deliver a high-performing building with sustainable features that save and generate electricity, conserve water, reduce material waste and create a facility that is durable enough for long-term use.
"Ultimately, the building represents a harmonious blend of history and contemporary learning," Rachlin said.
For the building's exterior, Rachlin Partners drew inspiration from the campus' Ethel Pope Auditorium, developing a complementary aesthetic that is modern yet respectful of the school's history and original architecture.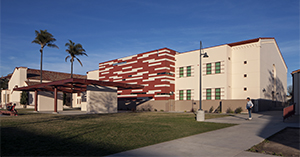 "We were challenged to create a 21st century learning environment on a campus designed and built in 1923 with a Romanesque and Classical Renaissance-style [of architecture]," Rachlin said. "Our solution, which we developed in consultation with the district and the city of Santa Maria's historic review agency, was to design the building using a modern vernacular influenced by classical styles. This was particularly important for the building's street façade, which presents a view of the new building that strongly relates to the adjacent Ethel Pope auditorium's aesthetics."
In the inner courtyard, the design team had more freedom to experiment, and the result is a more contemporary façade distinguished by a modern cement fiber wall element, according to Rachlin.
In accordance with the district-wide standards for 21st century education, developed by the design team and district staff, the interior classroom design includes moveable furniture, information technology with a flexible and expandable backbone and multiple video monitors that enable the classroom to be adapted to various teaching methodologies.
"These quiet, comfortable and flexible 21st century classroom environments include elements such as multiple white board locations around the room, WIFI connected adjustable monitors on three walls, fixed and movable storage, and lightweight ergonomic furniture designed for quick reconfiguration into individual, team or traditional learning groupings," said Gary Wuitschick, director of support services for the district. "Multiple department- and architect-led group meetings were held as part of the education specifications development process to ensure user input and programming needs were considered and incorporated where possible during the design process."
A core component of the building's program is the choir and band room, meeting the need for increased practice space and instrument storage. The room is acoustically isolated to ensure that music and sound do not interfere with instruction in other classrooms. The project's advanced sound control systems were a unique requirement that made this project different in comparison to other typical classroom building projects completed by Rachlin Partners, according to Rachlin.
"We worked with our acoustical engineer to acoustically isolate the music practice rooms using features such as a floating slab system, isolated wall-framing fasteners and other sound-mitigating elements," Rachlin said. "[These] help isolate the band and choir room from other classrooms by mitigating the capacity of sound vibrations to travel throughout the building. The systems have proven to work very well in practice, and we are pleased to report that the building has been enthusiastically received by students, teachers and the music department's staff."
Read more about this project in the July/August Maintenance & Operations issue of School Construction News, available soon.