Copper Association Awards School Projects
NEW YORK — The Copper Development Association and the Canadian Copper & Brass Development Association recently recognized several facilities,
including school projects, in their 2011 North American Copper in Architecture Award.
Phase 2 of Arizona State University's Nursing and Health Innovation project in Phoenix received an award for the application of copper panels on the outside of the building. Three different profiles were used in a randomly repeating pattern to create texture and unique shadowing, according to the association.
The building was designed by Smith Group and built DPR Construction, both Phoenix based, and the copper fabricator and installer was Kovach of Chandler, Ariz.
The Hylton Performing Arts Center at George Mason University in Fairfax, Va. received an award for an architectural design of curved and angled walls with a roof fully clad in copper. The sheet metal contractor on the project was Beltsville, Md.-based James Myers Co. and the principal engineer was Fairfax-based Restoration Engineering.
In New York City, H.S. 615 Chelsea Vocational High School was awarded for detailed copper work, including 14,000 square feet of 20-ounce copper in cornices, integrated gutters and downspouts, and vertical standing seam panels on the interior face of the parapets, flashing and snow guards.
The project manager at the school was Omni Architects of New York. The general contractor was Technico Construction Services and the sheet metal contractor was B&B Sheet Metal, both based in Long Island City, N.Y.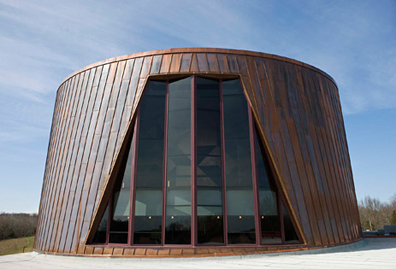 The Hylton Performing Arts Center.
The projects were judged by a panel of architecture and copper industry experts. Entries were evaluated based upon overall building design, integration of copper, craft of copper installation and excellence in innovation or historic restoration.
The awards program was founded to increase public awareness and promote the excellence in architectural copper design for buildings constructed throughout the United States and Canada.
The awarded recipients will receive commemorative plaques that feature copper etchings of the submitted project.