First Net Zero Energy Classroom in Los Angeles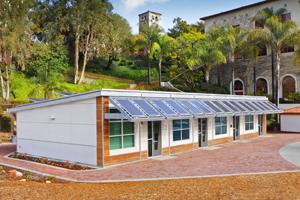 LOS ANGELES — Manteca, Calif.-based American Modular Systems have recently designed four new Gen7 high-performance, prefabricated classrooms at Brentwood School in Los Angeles.
The new wing of the school, called the Academic Village is designed to achieve LEED Gold certification and is a net zero energy building — generating enough power to fulfill 100 percent of its yearly energy requirements.
"We've been in our new Gen7 classrooms a few months, and we've been saving energy from the very first day," said Mike Riera, Brentwood School's Head of School. "Our students are excited to not just learn, but to see and experience what a difference they can make. Gen7 empowers them to do more."
Since April the Gen7 solar system produced 6.94 MWH of energy, enough to power 229 homes for a day. It offset 4.8 tons of carbon dioxide, the equivalent of planting 123 trees. Over the course of the year, the Brentwood Gen7s are expected to reduce energy usage by 70 percent, while significantly lowering the school's environmental footprint.
The environmental benefits are impressive but the students at Brentwood will also experience the benefits of learning within the Gen7 classroom.
"The Academic Village provides exactly the type of learning environment that inspires me to create new, engaging lessons for my students," said Todd Ballaban, Middle Division Teacher.
The classrooms feature skylights along with new technology that allow students to interact virtually. The classrooms include big screen Smartboards that incorporate media into the students' daily lessons as well as the "green button" that allows them to control the comfort level in the classroom.
"When pressed, the green button stimulates the active flow of natural air into the classroom, one of the incredible designs of the room," said Ballaban. "Combined with the skylights, this natural airflow can keep students more awake and responsive in class. It's closer to a fantasy world than any of us would have dreamed."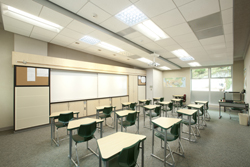 The installation of the classrooms took American Modular Systems only 30 days to install. The company has also installed Gen7 classrooms in schools across the country and has received recognition for energy efficiency and sustainability achievements including the (California) Governor's Environmental and Economic Leadership Award (GEELA) for Gen7 Schools.
Award recipients for the GEELA are chosen in 12 different categories based on their strength in eight specific areas including results, transferability, environmental impact, resource conservation, economic progress, innovation and uniqueness, pollution prevention, and environmental justice. Gen7 was one of only 16 winners at the event.
"American Modular Systems is a true leader," said Secretary for Environmental Protection Matt Rodriquez. "They prove that you can support and promote environmental values without sacrificing your business objectives. They understand that going green can be a successful economic strategy that can also lead to sustainable growth and development."