Colorado State University Opens Scott Bioengineering Building
Colorado State University celebrated the grand opening of the Suzanne and Walter Scott, Jr. Bioengineering Building, bringing together various disciplines of biomedical engineering in a high-tech, energy conscious facility.
The architectural team on the $75 million project was comprised of RATIO Architects as the design architect and SLATERPAULL Architects as the architect of record.
The Scott Bioengineering Building features teaching labs, design studios and a 24-hour study space. The 122,000-square-foot building will bring together the students and faculty of biomedical engineering, bioanalytic devices, synthetic biology, health and energy, and environmental engineering.
"The design concept for the whole building was to create a building where the researchers and students would be brought together in common spaces to create energies amongst the group," said Jennifer Cordes. "Our concept was 'The Space in Between', so we really wanted to design spaces in between their research lab that would allow them to come together in groups with people who they've never worked with before."
The number one goal of the project, Cordes said, was bringing together students and faculty who previously had conducted independent research in their chosen field. The proximity to other like subjects is expected to greatly increase innovation and collaboration while creating a positive work environment.
"They would spend time talking about research projects but they never really got to be in an office next to each other or have lunch together because they were in different buildings," Cordes said. "They were excited to move in together."
The project was largely funded by private donors and $30 million acquired from a new student facility fee. A major challenge in the project, Cordes said, was that the firm had to create a very flexible design since funding for the project was not concrete.
"We didn't know when those dollars were going to come in so we had to design and document the building in phases so it could be built and occupied in the first $30 million and we could kind of add on throughout the project and build as much square footage as we could possibly come up with," she said.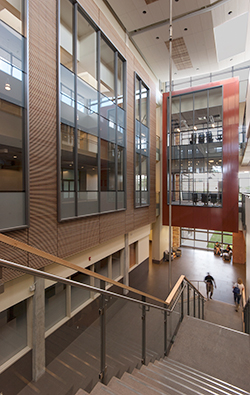 Designed to meet LEED Gold, SLATERPAULL designed several green features in the building. The team focused primarily on energy savings to attain the goal. For example, a rooftop data center that preheats air before it enters the building.
"We had to create a data center that was expandable because, depending on their grants, they need more or need less computational space," Cordes said. "We have a highly flexible data center on the roof and we use the heat that's generated from the data center to preheat the air in the building."
All labs and offices are daylit and have light sensors to decrease electrical usage and a three-story atrium that runs along the center of the building is naturally ventilated to take advantage of the natural Colorado air that flows from west to east.
"Three-story spaces can get hot on the third floor because the heat rises. By using the natural ventilation of the wind patterns in Fort Collins we were able to keep the energy costs down while keeping that atrium space comfortable too," Cordes said.
Equipped with several collaboration spaces, the atrium was designed as a living room of sorts for students to be able to gather in at anytime day or night. Large art pieces with glass panels also allow students to feel inspired by their space, Cordes said.