WIU to Build Performing Arts Center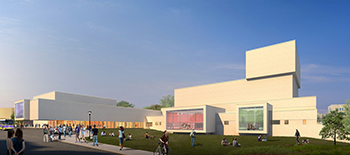 MACOMB, Ill. — On April 23 Illinois Governor Pat Quinn announced the release of $60 million for the construction of a new 130,000-square-foot performing arts center on the Western Illinois University campus. The Center for Performing Arts (CPA) will support the academic mission and programs in the university's College of Fine Arts and Communication, and position the school as a cultural leader.
"The Center for Performing Arts will increase Western's educational offerings and provide Macomb with a state-of-the-art music, dance and theater production facility," Quinn said at the funding announcement. "This is an investment in the school's future."

According to current plans, the $71.8 million CPA will feature a 1,400-seat proscenium theatre auditorium with two balconies, a 250-seat thrust stage and a more intimate 150-seat studio theatre. A number of spaces including dance, music and theatre rehearsal studios, a VIP area, green rooms, dressing rooms, a scenery design workshop, costume shop, box office and administrative offices will further support the performance art programs. The CPA design is also on target for LEED Silver certification.
"We are elated that Gov. Quinn has released the full funding for the construction of The Center for Performing Arts in Macomb," said WIU President Jack Thomas in a release. "We are excited about beginning construction on this new facility that will benefit our students, faculty and staff, as well as the region."
"This is a moment that will change the history of the College of Fine Arts and Communication, Western Illinois University and arts across the region," added Billy Clow, College of Fine Arts and Communication dean. "The CPA will provide an outstanding space for our students and faculty, and will serve as a cultural center for the region. We are…thankful to Gov. Quinn and the State of Illinois for their support for this landmark project."
Work on the CPA is also anticipated to benefit the Macomb community and surrounding region. "The Center for Performing Arts project will create hundreds of construction jobs over two and a half years," Capital Development Board Director Jim Underwood said in a statement, "and we look forward to working with the skilled trades people that will make this marvelous facility a reality."
The Illinois Board of Higher Education first recommended a $22.5 million appropriation for construction of the facility in 2002. In 2006, the Capital Development Board and WIU officials selected the center's design team, and the final concept was finalized two years later. Though the university hosted a ceremonial groundbreaking in 2011, construction will likely begin in earnest in late 2014 or early 2015, following the selection of a construction manager. The facility is slated to celebrate its grand opening in the spring semester of 2018.
Cannon Design of Chicago served as the Architect of Record for the CPA project, and Pelli, Clarke, Pelli of New Haven, Conn. provided additional design expertise. Theatre Projects Consultants of Norwalk, Conn. and Kirkegaard Assoc. of Chicago provided theatrical and A/V and acoustical services. Affiliated Engineers Inc. of Madison, Wis. and David Mason Assoc. and Thornton Thomasetti Inc., both of Chicago, comprise the project's engineering team.