Acquisition to Reestablish Sports Design Powerhouse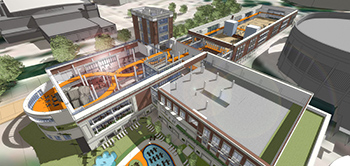 KANSAS CITY, Mo. — Global design, architecture, engineering and planning firm HOK, headquartered in St. Louis, recently acquired sports, athletics and recreation design firm 360 Architecture of Kansas City. Expected to be finalized by the end of October, the acquisition aims to reestablish HOK as a sports and recreation design leader and will give the firm a greater presence in the region.
360 Architecture is recognized as a leading designer of stadiums, ballparks, arenas, wellness centers and mixed-use entertainment districts, and has completed multiple educational projects. The firm was the result of a previous merger of CDFM2 Architecture Inc. and Heinlein Schrock Stearns in 2004, and also maintains offices in San Francisco and Columbus, Ohio.
"As a global design leader, it's important for HOK to offer clients design excellence in sports architecture," said Patrick MacLeamy, FAIA, HOK chairman and CEO, in a statement. "360 Architecture has created several of the world's most innovative professional and collegiate sports facilities and their design-focused culture and values align with ours. Together, we will design the next generation of sports and entertainment facilities while serving all types of clients as one of Kansas City's largest design firms."
"Joining HOK enables us to take advantage of an exceptionally strong global platform and to expand our sports facility design practice while offering our clients additional expertise in other markets," added Brad Schrock, AIA, senior principal at 360 Architecture. "This also brings HOK, a global design leader in many building types, into the heart of Kansas City. We expect continued long-term growth."
360 Architecture has worked with both professional sports franchises and civic organizations across the country over its 10-year history. The firm is currently contributing to the renovation of the Miami Dolphin's Sun Life Stadium, as well as Rogers Place Arena in Edmonton, Alberta, home of the Edmonton Oilers. It is also completing projects for the San Antonio Spurs and San Jose Earthquakes, among others.
The firm also maintains a firm presence in the higher education sector, and is now involved in the design of Notre Dame University's Campus Crossroads project in South Bend, Ind., as well as the Beauchamp Recreation & Wellness Center at the University of Portland in Oregon. 360 Architecture has also been a key player projects like Auburn University's vibrant new recreation and wellness center in Auburn, Ala., as well as renovations to the University of Washington's Husky Stadium in Seattle and Southern Methodist University's Moody Coliseum in Dallas. The firm is now in the process of creating athletic facility master plans for both the University of Missouri and the University of North Carolina.
"360 Architecture is a progressive design firm that has helped lead the transformation of sports architecture," said HOK President Bill Hellmuth, AIA, in a release. "These facilities have evolved into true destinations that are integrated into the urban fabric and are key components of vibrant, healthy cities."
"Our shared vision of collaborating across specialties and markets will strengthen the approach that has been so important to our clients' success," added Tom Waggoner, AIA, senior principal at 360 Architecture. "Joining HOK also gives our dedicated, talented employees even more opportunities for growth, education and diversity in their careers. HOK is a great fit for our clients, our people and the Kansas City area."