University of Louisville Building Pediatric Center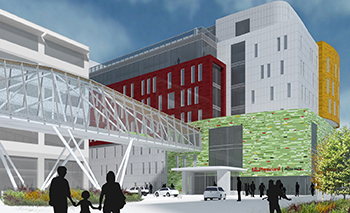 LOUISVILLE, Ky. — The University of Louisville (UofL) Foundation began construction on a new, 170,000-square-foot pediatric medical office building on July 18. An official groundbreaking ceremony for the project will be held later this fall, according to a statement.
The local office of GBBN and Atlanta-based Stanley Beaman & Sears are serving as the architects on the project while the local office of Messer Construction Co. is serving as the general contractor. All have been involved in the project since last year, shortly after planning for the building began in January 2015. The project is estimated to cost $79 million, including construction and furnishing costs, reported Louisville Business First.
UofL owns the property spanning the entire block, which currently houses the Physicians Outpatient Center, University Hospital Ambulatory Care Building, UofL School of Dentistry and a parking garage. The new pediatric medical office building will be located adjacent to the UofL Physicians Outpatient Center. It will contain all of the UofL Physicians pediatric specialty clinical practices, with general pediatrics located on the ground floor. The eight-story building will house seven clinical floors as well as a lab and pharmacy and radiology services. A multipurpose conference area on the top floor will connect to a variety of rooftop garden spaces for occupants to collaborate.
"This [facility] will be the premier pediatrics care building for children in the state of Kentucky," said Dr. Gerard Rabalais, chair of the UofL Department of Pediatrics, in a statement. "This will allow parents easy access to pediatrics specialists and primary care providers in one location, with everything designed specifically for children and their families. It is our intent that through this new facility, we will be building the future of pediatric care for years to come."
The design team created the building with a blank wall facing the street and positioned the building's main entrance facing an interior wrap-around driveway inside the block that can be accessed via Chestnut Street, according to Broken Sidewalk, a local publication. A pedestrian bridge will connect the facility to the existing UofL Physicians Outpatient Center across Chestnut Street, which would then connect occupants to other existing bridges to the hospital or to the existing parking garage.
Based on design materials, the new pediatric center will be clad in glass and metal panels, with windows on the upper floors designed to create a more playful look, reported Broken Sidewalk. It will include a three-story lobby designed with a bird's nest theme, with hanging, nest-like seating areas on the ground floor and a bird mobile displayed overhead, according to Broken Sidewalk.
The building is scheduled for completion in July 2018.