University of Wisconsin-Stevens Point to Build Science Building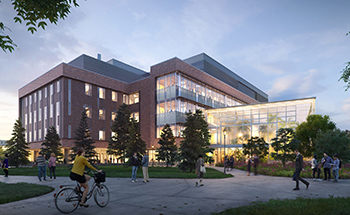 STEVENS POINT, Wis. — University of Wisconsin-Stevens Point (UWSP) is targeting a 2018 completion for its new $75 million chemistry biology building after breaking ground on May 5.
HOK, with offices in St. Louis, in association with Madison, Wis.-based architectural firm Potter Lawson designed the 176,500-square-foot building, while Neenah, Wis.-headquartered Miron Construction Co. will serve as the general contractor.
The four-story academic and research facility will provide space for the chemistry department, which will be relocated from its existing facility, built in 1963. It also creates new space for four UWSP biology department learning clusters, which will be relocated from the school's Natural Resources Building. Those clusters include introductory biology, human biology and botany as well as microbiology, and molecular and cellular biology. The facility will feature classrooms, lecture halls, research and teaching labs, faculty and staff offices, and a tropical conservatory. It will be the first major, freestanding academic facility built on the UW-Stevens Point campus since 1971.
"The project supports the university's ongoing mission to prepare students for professional careers while encouraging community outreach and ecological stewardship," said Joseph Ostafi, IV, AIA, LEED AP, Science + Technology practice leader for HOK in St. Louis. "UWSP's student-centered education focuses on development of critical thinking, creativity and inspiring life-long learning."
To support UWSP's emphasis on research for undergraduate students, the design purposefully places research, instructional and prep spaces adjacent to one another, added Ostafi. This provides greater efficiency for the users and enables equipment sharing. A majority of the instructional labs, classrooms and many of the research labs are standardized in size so they can easily adapt to current and futures needs.
Teaching spaces will also be clearly visible to students and campus visitors. The design puts science on display throughout the building with electronic kiosks and high visibility into biology labs and the tropical conservatory, which will be open to all students and visitors. The tropical conservatory not only serves as a teaching environment but also an architectural focal point, becoming a campus lantern element after dark. It highlights UWSP's robust botany teaching and research program.
In support of the university's vision of environmental stewardship, the building includes numerous sustainability strategies and targets LEED Gold certification. Large windows optimize daylighting, while mechanical and electrical systems are highly efficient, according to Ostafi. The facility is projected to use 40 percent less energy and 26 percent less water compared to a conventional design. In addition to the conservatory, green space around the building includes bioswales and rain gardens. The third floor has an outdoor patio with a rooftop garden and space for casual gatherings.
"One of the major challenges when planning the building was considering all the complex critical adjacencies," Ostafi said. "The HOK team took into account several criteria: ensuring research spaces are convenient to their support spaces, placing complementary departments and/or uses near one another; and providing adequate distance between other functions that need to be remote to one another."
The site also provided opportunities for innovative solutions due to the location having significant pedestrian and vehicular approaches on all sides. Locating service elements such as the loading dock area required additional design consideration, including additional landscape design elements to help screen these services from the public eye.
Storage and movement of hazardous chemicals as well as other sensitive materials and equipment needed to be carefully considered. A separate path was created for back-of-facility movements to mitigate interaction with the main circulation routes. The service elevator is placed away from the central stair to help with this separation.
Locating the building as a ceremonial campus arrival point emphasizes the importance of the sciences at UWSP. This design offered a major opportunity to create a building organization that promotes cross-pollination and collaboration between multiple science disciplines. The mix of chemistry and biology in one building is somewhat unusual. The design needed to accommodate all building users as well as invite non-majors to learn more about the chemistry and biology departments.