St. Louis Builders Construct Field for Immigrant Students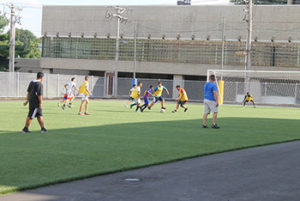 ST. LOUIS — A number of St. Louis construction industry representatives banded together recently to build an artificial surface soccer field for the nearly 400 immigrant and refugee children, from K-10th grade, who attend St. Louis Public Schools' Nahed Chapman New American Academy (NCNAA).
Dedicated on Sept. 13, the soccer field project aims to welcome the students, who come from 27 countries, with a playing field for a sport that's universally recognized. The soccer field includes a custom-designed shelter area and landscaping, and was built through donated services and fundraising totaling more than $200,000 from the construction industry, soccer community and other supporters. The dedication coincided with St. Louis' celebration of Welcoming Week, a national event that celebrates the contributions of immigrants. St. Louis Mosaic Project, a local organization that launched in 2012 to help make St. Louis a positive place for immigration, led the celebration, according to a statement.
Plans for the soccer field came to fruition in May 2015 when Peter Tao, principal at locally based Tao + Lee Associates Inc., approached Construction Forum St. Louis (CFSTL) to see if the industry would be interested in building a soccer field for the NCNAA students. NCNAA teachers and administrators had previously approached Tao, a member of the St. Louis Mosaic Project steering committee, to explain that NCNAA students often suffer from PTSD and other emotional scars. They explained that the students benefit from outdoor activities, but that the academy's asphalt playground was worn and dangerous.
The immediate concern involved addressing the playing-surface issue, but it led to a bigger discussion. Tao and other leaders in CFSTL formed the not-for-profit Gateway Welcome Project (GWP) to work with immigrant support organizations to help immigrants assimilate into the life and culture in St. Louis by creating a positive environment to learn and grow. Building the NCNAA soccer field was just the start of the GWP's plans to take on projects that help immigrant-focused schools in St. Louis.
"Gateway Welcome Project collaborated on what and how to help support and welcome these students into our community," Tao said in a statement. "The hope is that these kids will learn from this experience what it means to be in America, will one day be engaged with this community and will become ambassadors to others and perhaps future leaders. We also hope that, through this project, our residents of our region will have a better understanding of the global challenges and issues and the value of a diverse community."