Wahsega Labs Combines Power-Saving Tech with Elegant Simplicity
By Joey Gullo

On its journey to building an ultra-high quality ceiling speaker product that only uses tiny sips of energy, the Cumming, Ga.-based Wahsega Labs engineering team optimized software, specified hardware to keep stand-by power usage to a minimum and tested fidelity to ensure spectacular sound. But the biggest savings the product could achieve turned out to be the result of addition by subtraction.
When Wahsega Labs began its quest to build a comprehensive suite of IP endpoints, it gave priority to products that had the lowest power consumption in the industry and were easy to forget because they just always worked. So, in the mix of intercoms and individual IP speakers, Wahsega's decision to make a classroom IP speaker solution with both drop-in and surface mount variations presented a tremendous opportunity to merge all that they had learned from developing low power and reliable devices into a flagship classroom product line. That flagship line could work with either Singlewire's InformaCast — a mainstay in many institutions, particularly in educational facilities — or any of a wide range of other SIP systems. Wahsega reasoned that the product offerings, which combine penny-pinching energy usage and reduced total per-classroom costs with outstanding sound quality and reliability, would be a natural fit for any facility. Not wanting to leave anyone out, a version of the product was also designed to be fully compatible with other paging and bell scheduling systems.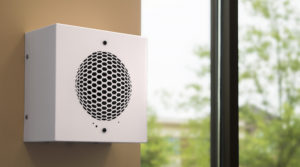 Wahsega's engineers chose Power over Ethernet (PoE) as the best option for powering their speaker. With PoE, the lack of additional auxiliary power supplies simplifies installation. Each speaker is able to save power without sacrificing audio volume by using a high-efficiency speaker and taking advantage of the 90-plus percent efficiency of its digital amplifier. Because of circuit board optimizations, the IP speaker pulls less than 0.5 watts on average per classroom when idle. This allows for incredibly clear, powerful audio broadcasts with lower energy bills.
The team added relays to the IP speakers with the ability to sound during school emergency events. These relays enhance the security of the classroom by having the ability to trigger door locks in lockdown emergency scenarios. Because not all events are emergencies, schools also have the ability to trigger these relays for custom applications, including visual notifiers in loud rooms so students can visually see that there is an announcement coming through. Anything that can be tripped by a relay is possible for the speaker to control. This gives administrators a great deal of flexibility to configure complex systems without having to add additional hardware and complexity.
The speaker solution mentioned at the beginning of this piece worked on the concept of addition through subtraction. In this case, Wahsega Labs created technology to share PoE power from the main speaker to a second independent speaker, which is fully capable of independent control in a second classroom. With that one addition, the facility saves by:
Substantially reducing power and cost by cutting the number of required PoE switches by almost 50 percent
Allowing the second speaker to act independently — with all of the same features as the main speaker, including sound reinforcement and a panic button — in a second classroom
Having each speaker use a Wahsega Sound Reinforcement Panel to play local audio over the IP speaker, eliminating both power requirements and the expense of independent sound systems
Looking more closely at how the Wahsega classroom product line is actually made, all of the IP speakers are manufactured in Georgia and are RoHS (Restriction of Hazardous Substances) compliant. Local production means avoiding overseas container and air shipments, which results in a dramatic carbon footprint reduction. Final assembly takes place in the main Wahsega facility, and the entire process is actually so close to home that the engineering team can visit vendors during their lunch break.
Wahsega Labs went to great lengths to reduce environmental impacts through all facets of the classroom IP speaker's lifecycle by localizing the manufacturing process, reducing the power required for the device itself in the classroom, eliminating PoE switches to reduce power consumption in the IT closet, and using recyclable metals in the speaker's housing. Wahsega can even help reduce a building's HVAC load, with less equipment in the IT closet to keep cool.
Joey Gullo is the head of sales and marketing at Wahsega Labs and has been with the company for over 10 years.