The SPARK Innovation Hub Revolutionizes Education at Washington State
By Rachel Leber
PULLMAN, Wash. — Washington State University (WSU) in Pullman recently had a new addition to its high-ranking buildings. In fall 2017, the SPARK — a classroom building created to democratize and revolutionize education at WSU — was completed.
The new building is a revolutionary teaching and learning space intended to enable faculty to use the most innovative technology in a state-of-the-art facility, while also helping to motivate students to engage deeply in learning.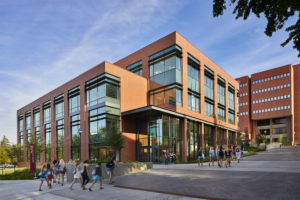 ZGF Architects served as the architect on the project, with Clark Construction Group LLA serving as general contractor — both of which have offices in Seattle. The project had a quick timeline from start to finish, with construction beginning March 2016 and being completed in July 2017. The project had a budget of $43.4 million.
The four-story, 83,295-square-foot building was designed for maximum flexibility, allowing spaces to be configured for learning across multiple disciplines with room for reconfiguring in the future. The space includes both formal and informal learning spaces for small- and large-group learning. The SPARK includes a marketplace, lobby and event space; a variety of lounge spaces; active learning halls; and flipped classrooms that provide interactive, flexible, student-centered learning experiences. The new innovation hub also provides makerspace and collaboration studios, a media lab, tutoring, faculty hoteling offices and an academic resource center.
The building has 13 flexible learning classrooms, ranging in size from 30 to 120 occupants, with eight study and conference areas for group study — which can be booked by students electronically from within the building. A daylit central stair knits the interior spaces together and provides a dramatic wayfinding element and opportunity for interaction among building users.
One of the most notable features of the building is the classroom-in-the-round — a 275-seat classroom that accommodates 360 degrees of projected content. The classroom includes modular, moveable furniture that allows for classroom-wide discussions as well as smaller group activities. 
There were several major goals for the project, according to Taka Soga, principal at ZGF. "The first was to create innovative and flexible environments that support a wide spectrum of pedagogies and modalities," said Soga. "We also wanted to showcase technology that advances learning and collaboration both formally and informally. Finally, we wanted to foster learning across multiple disciplines by establishing a nexus between the surrounding academic and housing facilities and the larger campus network."
The success of the design team in accomplishing all of this and more is particularly impressive, since soon after the project was awarded, there was a 10 percent reduction in the budget, according to Soga.
"Fortunately, both the timing and the highly collaborative nature of all parties involved allowed for the original project scope and host of betterments to be achieved," said Soga. Successful strategies included prioritization of goals, alternate delivery methods and flexibility in campus standards while maintaining a quality outcome. "In the end, the success of achieving more with less came from the trust and teamwork of the client, builder and designer," said Soga.
The SPARK is currently tracking LEED Silver; the design of the building incorporates the use of natural light wherever possible to decrease electric energy consumption and uses responsible water management strategies to reduce the building's water consumption and costs. In addition, the building's performance optimization systems include the use of heat-recovery wheels and radiant floor and ceiling systems. The SPARK also employs light controls that automatically adjust to ambient light levels and monitoring systems that provide real0time feedback through accessible visual data.