University Solar Fields on the Rise
University campuses are often the hotspot of new trends — ones that come in all shape and form. One of the latest trends is an increasing number of solar energy fields hosted by universities, made possible by a number of supporting factors.

At Colorado State University, a solar electric system is up and running, according to Carol Dollard, energy engineer at the school.

About four years ago, the school was approached by a third party power producer with a project idea to take advantage of state rebates and incentives. Though it missed the first bid, a second bid was approved, which allowed the university, to build the first two megawatt system in 2010, the maximum amount allowed at the time.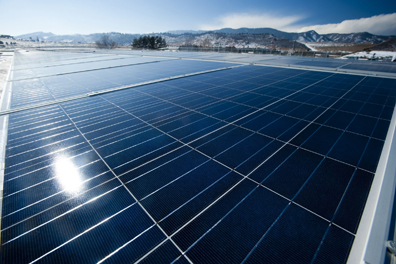 Financing was conducted through Fotowatio Renewable Ventures, the Spain-based, independent power producer that owns and operates the field, with the agreement that the university will buy the energy with renewable energy credits.
"It's very affordable for the university," she said. "We get to host a solar plant on our site without any capital investment."

In fall 2009, limits for permitted wattage increased, leading the school to return to the developer to request an expansion for a second phase.

The second of the two phases was completed in December 2010. With 23,000 thousand solar panels and 10 inverters made by local power and control technology manufacturer Advanced Energies, the completed project totals 5.3 megawatts over 30 acres.

FRV built the first phase with design and installation by international engineering and construction company AMEC. The field's Wattsun single-axis tracking system was built by Array Technologies, and is designed to maximize solar electrical generation by following the path of the sun during the day for greater efficiency and energy production.

Phase two was constructed by Global Energy Services, an independent service provider. GES installed the solar panels on racks manufactured by Macapisa, according to a statement from the university.

The field is located on the Foothills Campus of Colorado State, the agricultural center of the campus.

Dollard said universities make for good locations to host solar fields due to their long-term partnership abilities.

The purchase agreement allows the investor to receive money back only after 20 years. Due to this, the investment must provide a significant, steady revenue over a long period of time, similar to low-income housing, she said.

"Universities, we tend to have real estate and we're the one who have 30 acres to spare, especially on an agricultural campus," she said. "We've got the real estate and we're not going away, we're here for the long term and that makes us attractive to investors. They revert to the university and in the meantime, the investor who put millions on the table to build it is recouping the revenue stream."

Dollard said that although the solar field installation was painless, the first round of legal contracts were not.

"It's not hard to design a plant that works — there are certain things you have to have and then it just works," she said. "But the legal contracts, we've never done a power purchase agreement. We've done site leases for research partners, where there's a building or something tangible. But how does that work with solar panels? It was more just educating people and bringing them up to speed."

While the first round took three months to negotiate, the second phase took just three days, she said.

"By securing solar power through a power purchase agreement rather than major capital investment, Colorado State University is benefiting from a renewable energy system that is very cost-effective," said Jose Benjumea, president of FRV. "This collaborative effort serves as an example of how successful public-private partnerships can help universities and other public institutions make the most of financing, including tax credits and other incentives available for solar energy."


University of Arizona
At the University of Arizona, plans include not just a solar field, but a solar zone that incorporates various solar technologies as a forum for research.
Bruce Wright, associate vice president at the University of Arizona, said the solar zone had many different origins.

"First and foremost, the University of Arizona as a research university has been very active in solar energy and renewable energy research," he said. "We have a natural interest in this area of development of a research park that lends itself to solar research."

School officials contemplated ways to make the park available to university research and inventions. About three and a half years ago, the school was approached by BP, who was looking for a site for a large solar farm in the Southwest. Though they decided to go elsewhere, it gave the school the idea to develop the area.

Currently, the project is going through phases of development with partner utility company Tucson Electric Power.

"It's multi-dimensional in the sense that we're looking at a comprehensive integration approach of research, distribution, education, and public demonstration," Wright said.

The first stage involves demonstrating different solar energy technologies, with six different projects coming in, selected by Tucson Electric. The park is 13 miles from the main campus, and the zone will be built on 222 acres of the UA Tech Park's 1,345 acres. Additional solar energy projects are being installed on the main campus as well.

John Grabo, director of business development at the university's Office of University Research Parks, said solar fields at universities are becoming more common due in part to state laws.

"A lot of public universities are being directed to bring solar projects by their board of regents or state legislature as part of state policy," Grabo said, adding that the Arizona Corporation Commission, which governs public utilities, mandates all universities to have a certain amount of energy in their portfolio.

"Research universities like ours are at the leading edge of this technology development," he said. "Our faculty and students are engaged in discovering new photovoltaic materials, ways to build new arrays and integrate them into the grid, and how to store energy."

Another driver in the development of solar fields is the recognition of the economic opportunity, he said.

"Renewable energy and, in our case, solar energy, has proven to be a growth industry because of geographic location and extremely good sun," he said. "Combined with electrical engineering, atmospheric sciences and unique conversion, there's economic gain for entire region. That's really a big driver for us."

Grabo said that while utility companies are being mandated to provide renewable sources, they don't know which technology is the most economical and efficient.

"Having six companies demonstrate different technologies is beneficial for the utility company because they're able to evaluate all these systems and control systems for future investments," he said. "With that brings the research side — what are the new applications? You roll it all into one package, putting Tucson at the center of the solar conversation."

Wright said universities have long played a role in advancing technology.

"If you look at the history of major technology development in the U.S., in almost every instance as a new technology starts to develop and roll out we've turned to universities to help with that process," Wright said. "I think that's what's happening with solar projects."

Despite solar energy being around for a long time, there are a number of challenges involved, he said.

"There's a steep learning curve in trying to understand the dynamics of solar energy deployment — what are the economics of solar energy, how do you address land requirements and environmental issues, sort through commissions, etcetera?," Wright said. "There are a lot of things that have to be learned."
"We're fortunate to have a forward looking utility, they're helping us to overcome and work in tangent to provide solutions," Grabo said. "It benefits the utilities and the ratepayers."

In addition to renewable energy, the solar zone will also provide research opportunities for students and staff, internships with the partner companies and training for solar industry careers and management, Wright said.

Currently, there is a large demand for qualified workers, he said.

"We hope that as a result of helping to build this industry it will help to build jobs and this really impacts students," he said. "We're very excited about what we're doing with our solar zone. We think we'll be the largest multi-tech demonstration, but more importantly, it's an opportunity to bring our university to the forefront."