Early Education Center Uses Child-Centered Design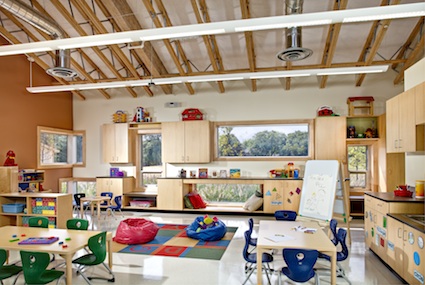 Photo credit: Paul Schlismann
NAPERVILLE, Ill. — Noting studies that show children in early education programs are more likely to score higher in reading and math, more likely to graduate from high school and attend college, and more likely to hold a job and earn more in that job, Congress reappropriated $300 million in July 2010 for President Barack Obama's Early Learning Challenge Fund, a competitive grant geared toward providing services for children under age five.
While school districts are already mandated by the Individuals with Disabilities Education Act to provide qualified preschool students with the specialized services they need to succeed in school, an increasing number of districts are expanding their services to include mainstream preschoolers.

The trend among these districts is to consolidate and centralize all early education curricula in an Early Childhood Center, which, according to Moss & Associates, should be "designed to emulate the principles of 21st century pedagogy: holistic, flexible, collaborative, contextual, and tailored to the individual's specific needs."
For children under age six, learning should not be a task but an adventure of discovery, which should be mirrored in the facility design, according to the firm.
As the first structured institutional setting that most preschoolers will encounter, early childhood centers should be warm, welcoming, and familiar the firm said.
In line with the idea of promoting "serious play," spaces should be open and proportionally scaled, such as hallway windows that let children see into a room.
Accommodating diverse needs, such as language barriers or physical, mental, or emotional challenges, can be achieved by having more space allocated for each child, given the individualized instruction present in early childhood center curriculum, according to the firm.
The arrangement and configuration of instructional spaces must accommodate multiple activity options and support specific diagnostic and therapeutic services, firm officials said.
"Data from the National Clearing House for Educational Facilities indicates that more than 80 percent of all four-year-olds attend some kind of preschool program, with 39 percent enrolled in some kind of public program," the firm reported. "In many districts, however, early intervention programs and related services are scattered among different schools."
Some teachers and therapists travel to several schools each day for individualized learning sessions that often take place in cramped, makeshift spaces, officials said.
"Centralizing these services in an [early childhood center] enhances the effectiveness of teachers and other instructors and enables them to collaborate more easily with each other," officials said. "Most importantly, it gives them more time to spend with students."
The centers are also more efficient in their use of resources and tax dollars, according to the firm.
The Ann Reid Early Childhood Center in Naperville recently earned LEED Silver certification as the first newly constructed public school dedicated to early childhood education.
The school, which opened in the summer of 2010, was designed by Chicago and Darien, Ill.-based architecture, engineering, and construction firm Wight & Company as a "learning village" to accommodate the diverse educational needs of more than 300 children aged three to five.
Elgin, Ill.-based Lamp Inc. served as the general contractor on the $11 million project.
The 48,000-square-foot building's exterior has a familiar residential appearance, with pitched roofs, siding, and windows intentionally placed to reflect the natural surroundings of its suburban neighborhood.
To make children feel at ease, the space was divided into a "learning village" of four educational neighborhoods that are connected to each other via communal areas and provide multiple opportunities for interaction. The corridors, or neighborhood "streets," have various instructional wall surfaces and built-in manipulatives, e.g., letter blocks on skewers in hallways.
Design officials said the goal was to create visible opportunities to connect children with nature.
"The children at Ann Reid get a firsthand experience of the sustainable landscape design from windows that frame seating areas that are snuggled within the millwork and finished with cushions," said Kevin Havens, director of design at Wight. "Just outside the windows rain is celebrated on stone pathways that follow sweeping curves to maximize the opportunity for infiltration before a last-stop catch basin."
Sustainable features include perimeter landscaping with bioswales and rain gardens with indigenous plantings.
"The school district and Naperville community wanted to incorporate as many green elements into this project as the budget allowed, and we're proud to have helped them achieve this goal," said Mark Wight, chairman and chief executive officer.
The facility also includes windows along the lower wall in classrooms to allow light to enter and meet the district's intent to encourage students to be more engaged with nature.