Transformation of Atlanta Schools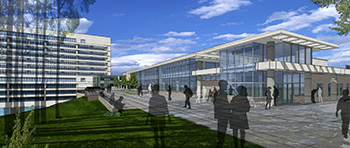 ATLANTA — Towering over a tranquil lake setting, an 11-story former IBM Corporate Campus has undergone a dramatic transformation to provide students of Atlanta Public Schools with a modern educational setting for their growing community.
Architect of Record, Cooper Carry, worked in collaboration with Collins Cooper Carussi and Paul Cheeks Architects to design the adaptive reuse project while JE Dunn Construction served as construction manager. Each firm holds offices in Atlanta.
"It was essentially more difficult, more demanding and more rewarding than many, if not most, of the other projects we do," said Jerry Cooper, principal-in-charge at Cooper Carry. "Adapting an office building to another use had several items that required a broader knowledge of design than one would normally find in an architectural firm that specializes in K-12 schools."
The new school, with a price tag of about $147 million, is the most expensive public high school in the history of Georgia and is designed to accommodate 2,350 students.
Atlanta Public Schools, Cooper said, was facing an issue that is now common for urban school districts: lack of available land to construct new school buildings. As sites were extremely limited, the concrete-framed office tower was selected because several elements of the building were already well suited for an academic setting.
The IBM campus consisted of two buildings but only one of those buildings was deemed appropriate for the school, which includes classrooms, a library and a cafeteria. A second building, to be completed in November, will be newly constructed and will include a 600-seat auditorium, a 150-seat black box theater, a practice gymnasium and a 2,100-seat competition gymnasium.
Incidentally, Cooper said, the existing campus is stunning.
"One of the prevailing assets that this facility has is floor-to-ceiling glass that has unobstructed views of the lake, the forest and the surrounding neighborhoods," he said. "It is a breathtaking experience for both the students and the parents."
For safety and energy efficiency, all the glass in the building was replaced with laminated safety glass with a high shading coefficient. The glass, which will assist in heat gain, will help the school meet its LEED Silver goal.
Other changes included the replacement HVAC system, since formerly a single unit controlled the office building and individual classrooms in the new school were required to have thermostatic control. Additionally, the ceilings were not replaced but instead left exposed, Cooper said. The exposed ductwork allowed for more height in the classrooms as well as a more exciting space.
"It's a much more exciting space for the students to look at and wonder about the connection of the logic of engineering and the art of architecture," he said.
Four small learning communities, one for each grade level, are situated on the top eight floors of the building. Two floors are designated to each of those small learning communities. The majority of students' classes are held in the two floors of their distinct small learning communities.
"We actually then connected those two floors with a community center and an open stair that communicates between those two floors of the academy," said Margarita Perez, project manager at Cooper Carry. "Each academy then has its own identity within the building."
Along with structuring the school in a way that required less vertical movement, the design team also implemented eight destination elevators in order to limit the amount of stops each elevator needed to make. The highly efficient destination elevators decreased the time needed for the entire student body to arrive on their respective floors from 45 minutes to 25 minutes.
Another struggle for the architects was interior design, which held a high-end office feel, Perez said. Using the surrounding natural environment as inspiration for the interior color palette, the designers introduced more color for an element of playfulness. This created more of a collegiate atmosphere, Perez said.
"We were able to successfully create an atmosphere that is still very energetic for high school students while at the same time creating a more sophisticated feel that's more in keeping with the campus and the architecture," Perez said.
The architects at Cooper Carry believe that the new North Atlanta High School is an example of the beginning of the future in adaptive reuse projects for public education buildings.
"One cannot state too strongly the importance of adapting older buildings for new use and doing it in a way that creates a sense of pride among the parents and the students," Cooper said.