UCSD Opens Collaborative Biomedical Research Facility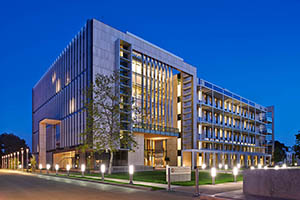 LA JOLLA, Calif. — The University of California, San Diego (UCSD) recently opened a new $113 million Health Sciences Biomedical Research Facility in La Jolla. The 196,000-square-foot building was designed to encourage collaboration between scientists in the region and worldwide.
ZGF Architects, with offices in Portland, Ore., served as the project architect, while McCarthy Building Companies Inc., which holds local offices, built the facility located on a 3.3-acre site within the UCSD Health Sciences campus. The facility accommodates new and expanded multi-departmental programs, including bioinformatics, genomic medicine, gastrointestinal medicine, childhood diseases, pathology, immunology, inflammation, psychiatry, cardiology, neurosciences, infectious diseases and glycobiology.
The seven-story research facility features five floors of wet bench laboratories, open lab space, lab support space, seven stories of administrative office space, interaction spaces and conference rooms.
"With this new building, UCSD wanted the ability to attract the best and brightest researchers from the region and around the globe to join in the university's mission to solve the world's most critical health problems," said Bob Betz, senior vice president of McCarthy. "In keeping with UCSD's overriding goal of minimizing impact on the environment, another main goal was to design and build a laboratory facility that would achieve LEED Platinum certification and possibly lay claim to being the most sustainably designed academic laboratory facility in the world."
The project's strong focus on interdisciplinary collaboration is showcased in the open lobby, an interaction space adorned with gray-tone granite tile and California chestnut hardwood flooring. The lobby design also includes an iconic cast-in-place, concrete staircase that climbs seven stories up and one story down from the main space. The stairway is encased with frosted glass panels with LED-lit handrails and balconies enclosed with rift-sawn white oak wood panels and guardrails.
Designed to achieve LEED Platinum certification, the building includes several outdoor spaces as well as natural elements. The project includes two large, outdoor seating areas located on the second and fourth floors. These spaces feature slotted, metal overhead trellises and reclaimed teak wood ceilings and overlook the Health Sciences campus.
"Small conference areas are located on the top floor overlooking the lobby, some with oak wood privacy panels to create more intimate meeting areas," Betz added. "Self-performed by McCarthy, the exposed architectural concrete shear walls, columns and stairways use Type III cement to lend to their aesthetic appeal."
A computer-controlled exterior solar shading system on the east, west and south facades reduces visual glare, cooling load and energy use, while the radius ceiling shape helps redirect sunlight to provide optimum daylighting, according to the McCarthy team. Other sustainable features include daylighting, radiant heating systems, operable windows, individual thermostats, displacement ventilation, LED lighting, a water reclamation system, low-VOC materials, and high-efficiency mechanical, electrical and plumbing systems. UCSD will study how capturing natural light in this unique manner lends itself to enhancing employee performance and workplace satisfaction, Betz said.
"The highly MEP-intensive floor was the most technically challenging aspect of this construction project," Betz said. "Particular attention was given to the build-out of these mechanical, electrical and plumbing systems to ensure optimum energy efficiency. BIM was utilized extensively to help in the coordination of these spaces, along with Blue Beam for the electrical plan room. Additionally, McCarthy brought its subcontractors aboard during the initial design phases to help fashion a seamless, integrated building process."
Another challenge on the project involved site logistics, as the building footprint was wedged between existing structures. To overcome this challenge, the McCarthy team paid close attention to ingress and egress routes and collaborated closely with the university's officials to ensure maximum safety and minimum disruption to traffic flow in and around that portion of the campus.
Long lead times were also needed for certain materials, such as the terra cotta tile from Germany and the aluminum cladding systems from South Korea. These materials were ordered well in advance so as not to slow down construction progress at the site, Betz said.