Texas A&M Builds New Cadet Residence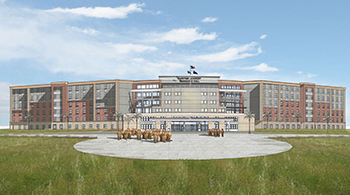 GALVESTON, Texas — Texas A&M University has begun construction on the new 204,800-square-foot Maritime Academy Cadet Residence Hall on the school's Galveston campus. The $37.4 million project will provide specialized housing for more than 600 student cadets enrolled in the Texas A&M Maritime Academy.
The small, marine sciences-oriented university selected Ft. Lauderdale-based firm Moss & Associates for design-build of new six-story facility. Hunt Companies of El Paso is financing and developing the project, its first with Texas A&M. PGAL, a Houston architecture firm, was selected to design the facility. Construction began on June 30 and is currently scheduled for completion in the fall of 2015.
"Hunt is honored and excited to have the opportunity to work with Texas A&M University at Galveston on this important project," said Sinclair Cooper, co-president of Hunt's Public-Private Partnership division, in a release. "This partnership will create a more comfortable and accommodating living environment for current and future cadets, and allow for greater flexibility and housing options for the growing student population. We look forward to beginning what we hope to be a long and lasting relationship with the Texas A&M University System."
According to a release provided by Moss & Associates, the 612-bed development will feature a design focused on providing Maritime Academy cadets with direct access to residential and leadership areas, as well as centralized gathering locations. The Cadet Hall design consists of two residential wings connected to a central commons, and features an illuminated formation court and amenities suitable for the most modern facilities. The commons includes four classrooms, study lounges, flexible social spaces, staff and cadet offices, a reception area, common laundry facilities, a convenience shop, and storage areas.
"This project will be designed and built to provide future cadets, instructors and staff with a sophisticated environment for learning and living strong in comfort and amenities," Moss & Associates Senior Vice President Mike Mazza said in a statement.
The university's current campus master plan, developed by Ford, Powell & Carson Architects & Planners Inc. of San Antonio, describes the Texas Maritime Academy as "a special community within the larger campus community." According to the master plan document, it was important that the university fostered a sense of community within the Corps of Cadets, and separate, dedicated housing was an obvious method of reaching this goal.
The location of the Maritime Academy Cadet Residence Hall was also important as connections to the ship and the drill platform required direct pedestrian access.
"Separating the Corps housing from general housing is also useful for functional reasons," the planners wrote. "Cadets are required to stand watches on the Texas Clipper and participate in other activities such as morning formation; schedules for these activities are generally very different from the schedules of non-Corps students, so separating the Corps housing will ease such conflicts."