Duke to Revamp Wallace Wade Stadium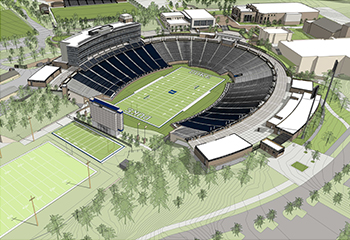 DURHAM, N.C. — The Duke University Board of Trustees recently approved a series of upgrades to the school's 85-year-old Wallace Wade Stadium. The privately funded enhancements will primarily focus on expanding services and improving the fan experience.
In a statement on GoDuke.com, the official website of Duke athletics, Vice President and Director of Athletics Dr. Kevin White said the department is thrilled with the board's decision to move forward on the project.
"When completed in 2016, Duke's football facilities will rank among the finest in college athletics — on a scale appropriate for the university," White said. "High-level sporting events create such tremendous opportunities to attract many members of the Duke family to campus. The premium amenities included in these state-of-the-art renovations will generate a first-rate experience for our alumni, friends, fans and most importantly, an optimal game day atmosphere for our student-athletes."
The largest of the three upgrade projects will involve construction of a five-story tower containing multiple concession areas and restrooms on the main concourse level. A 300-seat dining room and luxury suites will comprise the tower's second level, with additional luxury suites and a president's box on the third level. The fourth level will create new space for media outlets and both home and visiting team coaches, while the fifth level will be dedicated to video and filming.
Upon completion, a new LED video board and sound system will also grace the field's south end zone. The 1080P high definition video board will span nearly 3,200 square feet — more than double the size of the current display — and will be developed through a partnership with Daktronics, according to GoDuke.com. New interior and exterior lighting will also be added to brighten the complex.
Additional work will be done to improve guest services and first aid areas and to increase ADA accessibility and companion seating. The concourse will be repaved and nine sections of existing bleachers will be replaced with seats featuring the Blue Devils' signature color. These seats — along with those created by the new tower — will increase capacity to nearly 40,000, up significantly from the current 33,941.
Beck Architecture PLLC of Atlanta has partnered with the university to redesign the stadium, which will also include the removal of the existing track to lower the field.
The nearly two-year construction process will begin after the Duke's final home game against Wake Forest on Nov. 29 and should be completed in time for the 2016 season.