Los Angeles Valley College Debuts New Student Center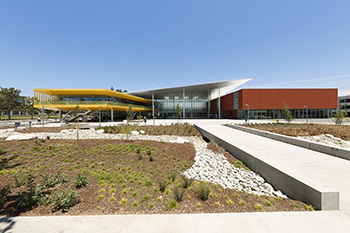 VALLEY GLEN, Calif. — Los Angeles Valley College (LAVC) in Valley Glen recently debuted its new 66,000-square-foot, two-story Monarch Student Center, which is intended to provide a home-away-from-home for students on campus.
Designed by Irvine, Calif.-based LPA Inc., the new Monarch Student Center replaces the previous student center located on the same site. The earlier building was very small, outdated and lacked several student amenities, according to Steve Flanagan, principal at LPA Inc., and was demolished to make way for the new Monarch Student Center and a parking structure. The new facility includes a bookstore, dining hall, student health center and student lounge.
"The Monarch center was designed with a large [variety] of indoor and outdoor student spaces so that each student could enjoy spaces that fit their personality and or desired level of interaction with other students," Flanagan said. "[This variety] of spaces — some small and intimate, some medium for small groups, and others large and inclusive — allow students to decide if they would like to passively or actively participate."
The building has a large outdoor plaza with multiple entries both horizontally and vertically so students can flow easily between indoor and outdoor spaces, eliminating a singular main entry that can be intimidating for some students, especially first-time visitors, Flanagan explained. There are also a number of "plug-and-play spaces," he noted, as well as Wi-Fi throughout — even in outdoor spaces around and under the building.
"This project is truly the heart of the campus and is located centrally where students will pass by the building on a daily basis," Flanagan said. "With the placement of the new multilevel parking structure adjacent to the Monarch center, it may also be the first and last building many students pass by every day so the design team felt it was important to give students an opportunity to enjoy and appreciate the amazing year-round climate we know to be Southern California."
The temperature in the summer months at LAVC can reach more than 100 degrees, so the design team created a giant solar umbrella to provide ample shaded space outdoors. The solar umbrella can also shelter students from the rain and collect rainwater in the winter months. The unique feature was a direct response to programmatic requirements to provide a large outdoor covered plaza for concerts and other large student functions, activities and gatherings, Flanagan said.
The 20,000-square-foot, sloping canopy stands 41 feet above the ground at its highest point. Clad in bright yellow metal panels, the Student Union wing is elevated off the ground to allow the space, landscape and views to flow underneath it. A "skybox" includes student meeting spaces, administration, a boardroom, a gaming room, several lounging areas and protected exterior decks.
"This project is one of our most exciting higher-education projects when you take into consideration the total end result," Flanagan said. "The facility feels like it's much larger than the square footage built due to the large covered outdoor spaces."
Inside, students can enjoy a wide variety of dining options in the Monarch Student Center as the dining program was designed to appeal to LAVC's diverse, multicultural student body, Flanagan said. In addition, the food service areas are designed in a food-court style, allowing students to go directly to the food of their choice.
On track to achieve LEED Silver certification, the facility features several sustainable elements. Woven into the project site and the student plaza is a dry-creek drainage system and sustainable garden where students can understand and appreciate how the campus diverts rainwater from the storm drain system and into the ground water. Native and drought-tolerant plants are also featured with natural boulders and cobble.