6 Ways a CMMS Helps School Campuses Stay Safe & Attractive
By Lindsay Walker
Educational institutions need to stay in top-notch condition all year long. Those in charge of maintaining a school's equipment, assets and amenities need to ensure that everything is in order and functional at all times — while keeping a watchful eye on the maintenance budget. When managing an educational institution that houses hundreds of infrastructure assets, getting things done efficiently on a daily basis requires an effective maintenance system.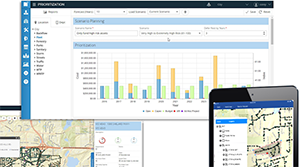 Here are six ways that schools can capitalize on the features and functionalities of a fully loaded computerized maintenance management system (CMMS) to keep campuses in good condition and keep assets in order while lowering maintenance costs and saving time.
Improve Accountability
It takes a full-time maintenance staff to manage a large school that is well-equipped with several assets and equipment such as lighting, lab equipment, HVAC units, dining halls, landscapes, roofing, classrooms, plumbing fixtures and handicap access. Computerized maintenance management systems ensure complete accountability from start to finish. With CMMS, the maintenance crew can prioritize tasks and automate the work orders accordingly. Its central database offers easy access to routine maintenance schedules enabling timely generation of work orders and faster completion of maintenance tasks.
Keep Asset Up & Operational
Schools run efficiently only when everything is in order, whether it is the HVAC unit, water supply, lab equipment or campus transportation. A dysfunctional air-conditioning unit, a dirty bathroom and damaged fixtures all need on-demand repairs and replacements. CMMS makes it possible to respond to emergencies in a timely manner by enabling maintenance managers to generate work orders in real time, assign tasks on-the-go and monitor the status of work from any location. This ensures faster troubleshooting and keeps operations running without any major disruption.
Boost Productivity
Asset-management software keeps a constant track of data, enabling facility managers to schedule PM tasks, send notifications, share important information and monitor work progress. It ensures optimum utilization of available assets and keeps maintenance crews occupied at all times. With CMMS, facility managers can easily track time taken for completion of work orders and also know which technicians fixed which equipment.
Track Inventory
Schools need to maintain multiple facilities such as sports arenas, classrooms, labs, parking lots, playgrounds, residence halls, roofing, dining halls and libraries. Tons of items are used in these facilities from light bulbs to air filters to computers. CMMS makes it easy to track the use of equipment and assets, making it easier to see when inventory will be running out on certain parts. It also notifies users when a certain part of the building is using more parts as compared to the others and generates purchase orders for replacements parts. This helps save time while preventing delays in fixing unexpected equipment failures.
Extend the Life of Vital Equipment
A CMMS automates all preventive maintenance schedules and routine inspections, enabling technicians to replace worn out and dysfunctional components on time. This not only prevents small problems from inviting major breakdowns, but it also enhances the service life of machines and equipment. A computerized maintenance management system ensures timely inspections, periodic maintenance and regular replacements, which mean fewer breakdowns, lower repair costs and less downtime. CMMS users can save a lot of money in the long run while increasing the work efficiency of vital infrastructure equipment.
Ensure Compliance
Schools are responsible for a lot of things apart from educating students, including keeping the campus safe, managing inventory and ensuring compliance with government regulations. CMMS keeps a constant check on everything to eliminate every health and safety risk that can damage a reputation. It also ensures that no resources are wasted, every issue is fixed on time and operations run smoothly.
A CMMS helps accomplish the main objectives of facility maintenance — maximizing ROI, reducing repair costs, saving time and accomplishing more with fewer resources. It ensures efficient management of assets and empowers a school to develop a brand reputation that supersedes the distinction of the institution. When reputation is enhanced, parents are more willing to invest their child's future in your educational institute.
Lindsey Walker works for NEXGEN Asset Management as the company's marketing manager.