Part I: Creating Flexible, Dynamic Classrooms and Shared Spaces
BILLINGS, Mont. — Enrollment at Elysian K-8 School in Billings has doubled in recent years due to a flourishing local medical community and increasing nearby energy exploration, requiring a school remodel and expansion.
After successfully passing a bond issue in 2013, work began quickly on the nearly $8 million, 66,000-square-foot renovation and expansion project at Elysian K-8 School, which can now accommodate up to 480 students. Plans called for creating an innovative educational environment that would surpass any other in the region, maintaining the school's high performance in state standards testing and complementing innovative single-family housing developments located nearby.
Breaking Traditional Barriers
"We didn't want to just add more boxes of classrooms. We wanted to do it right," stressed Lucas Larson, Elysian K-8 School superintendent at the time of project's design and construction.
Larson and his team looked closely at award-winning schools in other states that offered collaborative and flexible learning spaces along with a lot of natural light. "The result we achieved fit in very well with what our school board, teachers, staff and community envisioned," Larson added.
"We were convinced that our own full view doors would also break down the barriers of a traditional classroom approach, encourage more collaboration among teachers and increase the flexibility of space," Larson continued.
The inspiration for the Elysian K-8 School project was based in part on a trip Larson and school board members took to visit one particular school in Washington State. That school was well known for its innovative interior design concept that includes full-view sectional doors with clear panes of glass integrated into the classroom learning environments.
"Once we witnessed the doors in action, we were convinced that our own full-view doors would also break down the barriers of a traditional classroom approach, encourage more collaboration among teachers and increase the flexibility of space," Larson said.
Two Architects, One Vision
The Elysian school district determined that local Billings firm A&E Architects was the best choice for the school project. For added expertise on educational interior design, A&E Architects brought in a Seattle-based partner, nationally recognized Integrus Architecture.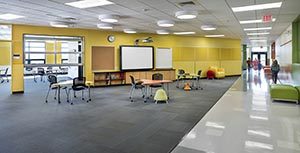 Larson explained that the district was comfortable with the progressive insights A&E and Integrus provided as well as both firms' willingness to listen and talk about ideas with a vision that reached beyond the norm.
Working seamlessly, A&E focused on exterior design elements (due especially to the firm's familiarity with the local climate), while Integrus concentrated on interior design and classroom layout. Eleven strategically placed Amarr 3552 Heavy-Duty Aluminum Full View Sectional Doors specified by Integrus comprised a critical design element.
Each of the full-view doors features a wide expanse of 1⁄2-inch-thick clear tempered glass between 2-inch extruded clear anodized aluminum rails and stiles. The ClearView aluminum struts add strength and durability to the doors without restricting the viewing area and allowing the maximum amount of natural light.
"A considerable amount of planning went into the door locations," Larson said. "For example, there were several middle school classes accustomed to working collaboratively, so it made sense that they would benefit from the increased access between classrooms."
Larson added that all of the school's teachers were highly involved in the overall design process and spent time talking with the architects.
The renovation part of the project centered on Elysian's middle school area. Due to a few pre-existing constraints, all six full-view doors in that part of the school are the same size — 9 feet by 8 feet — with the exception being one corner classroom which has a 4-foot by 8-foot door. The new elementary section incorporated 12-foot by 8-foot and 9-foot by 8-foot doors in the library. All classrooms with full-view door access still retain standard entry and exit doors.
High-quality Construction
Joining the architectural team and local general contractor Fisher Construction Inc. was Alpha Overhead Door, also of Billings. Alpha Overhead Door's General Manager Matt Weber handled the door installation process.
"The Amarr full-view doors represent our first experience in the school interior environment," Weber shared. "They play not only an important daily functional role but also provide a really cool industrial look."
Weber added that the team only encountered a few engineering challenges along the way. "We spent some extra effort on a low headroom setup and integrating the doors' track supports into the drop ceiling design," Weber said. "We also modified the cable runs so they aren't exposed to the kids in any way that would cause potential safety issues."
After installation, Weber provided teachers with basic how-to advice on what to look out for when operating the doors with students nearby. When closed, the doors are padlocked so students can't open the doors' slide lock mechanisms.
Read more about this project in Part II of this story, available online on June 14.