Georgia Tech Receives Largest-Ever Rebate Check from Georgia Power
By Rachel Leber
ATLANTA — Atlanta-based Georgia Power awarded the Georgia Institute for Technology (Georgia Tech), also in Atlanta, with a $500,000 rebate check on July 14. The rebate is the largest ever issued through Georgia Power's Commercial Energy Efficiency Program, and was given to Georgia Tech to mark the completion of its most recent effort to implement energy-efficiency upgrades at two facilities on campus. Georgia Power presented the rebate check to Georgia Tech at a special event at the Georgia Tech Environmental Biosystems Building.
Georgia Tech earned the rebate by completing various energy-efficiency upgrades that began in October 2015 and were completed in March of this year. The planning and design process for these upgrades began even earlier in June 2014, followed by an energy audit conducted by Johnson Controls (headquartered in Milwaukee, Wis.) in December 2014. The project had a budget of $7.7 million. Locally based RMF Engineering was the design engineer on the project, with multiple project committee and team members from Georgia Tech as part of the planning team.
The upgrades included upgrading water chillers that serve a large portion of the campus with North Slope Chillers, replacing existing motors with high-efficiency inverter-rated motors and conversions of condenser water pumps. Specifically, the project accomplished the following: RMF Engineering added a variable frequency drive (VFD) to one 2,000-ton chiller, converted four cooling tower fans to VFD drives, added 14 pumps with a VFD drive and replaced two 1,000-ton chillers with one 2,000-ton VFD chiller. Additionally, Georgia Tech received Georgia Power credit for a 3,000-ton VFD chiller that had been previously installed, which also impacted the amount of the rebate.
With the completion of these upgrades, Georgia Power estimates Georgia Tech will be able to save more than 16 million kilowatt-hours (kWh) annually. "Basically, the project was a chill water plant optimization scheme that allowed us to more efficiently make and distribute chilled water throughout the campus," said Greg Spiro, P.E., CEM, senior design engineer for facilities management at Georgia Tech. "For example, by installing VFDs on pumps, chillers and support elements in the plant, we were able to provide more precise motor control, which greatly impacts energy usage."
The primary objective for this project was to reduce the power consumed, per ton of cooling by reducing kilowatt used per ton (kw/ton) of campus chilled water production, according to Donald Alexander, P.E, RCDD, CEM, academic design professional for facilities management at Georgia Tech and project manager for the energy upgrades project. After Johnson Controls completed its audit in 2014, the Georgia Tech Committee evaluated the recommendations made by the company and decided what combination of measures were best.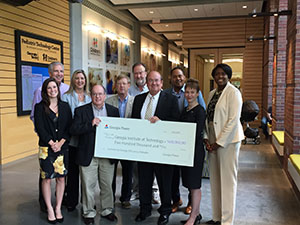 "With a project and budget of this size, the development stage was a very important and intense portion of the initiative," said Alexander. "There was significant negotiation of staying within budget parameters while also assuring that the required energy savings would be met."
During both the planning and construction periods, the Georgia Tech Project Committee members met every two weeks to review progress and assess recommendations, according to Alexander. "The actual contracting process was a challenge for Georgia Tech, as performance contracting was new to the financial and legal teams of the Georgia Tech," he said.
Alexander spent a significant amount of time and effort steering the project through the many phases of approval, added Spiro.
Georgia Power has awarded more than $44 million in rebates through the Commercial Energy Efficiency Program since the program started in 2011. The program includes educational resources, rebates and incentives available to all commercial customers such as school systems, universities, hospitals, museums and more.