Michigan State University Goes Greener with Solar Carports
By Rachel Leber
EAST LANSING, Mich. — Amongst the many green and sustainable efforts made by Michigan State University (MSU) over the years, the school can now also proudly boast having the largest solar carport in the U.S.
Thanks to Vancouver, British Columbia-based Alterra Power and Inovateus Solar LLC in South Bend, Ind., MSU now has a fully operational 11-MW solar array on five of its parking lots as of Dec. 21. The solar panels are located above 45 acres of carports at MSU, covering more than 4,500 parking spaces across campus.
The solar carports are an investment that the school made with the expectation of saving $10 million over 25 years, after spending just under $2.5 million to connect the solar PV arrays to the MSU electrical system —  less than what MSU would have spent on its other forms of power generation, according to MSU's online carport initiative.  For the rest of the project, the 1st Source Bank in South Bend, Ind., provided a long-term loan of $19.8 million, and will be paid over time by MSU purchasing the energy generated by the PV array.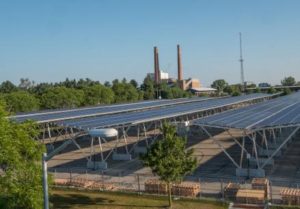 Alterra will manage the project, which will sell 100 percent of its power under a 25-year agreement with the Board of Trustees of MSU. Inovateus is the construction manager for the project and will provide operation and maintenance services as well.
The project will bring cleaner air to MSU students and faculty because of the emissions-free generation of electricity, according to Wolfgang Bauer, a university distinguished professor in physics who assisted with the project, in an MSU article on the college's website. It will also help reduce the university's utility costs over time, which, in turn, will help keep tuition rates as low as possible, Bauer added.
In addition to these benefits, the solar carports will provide protection from direct sunlight and prevent parked cars from heating up too much in the summer as well as keep parked cars protected from snowfall in the winter. The solar panels will also produce power for the campus during daytime hours when demand is typically at its highest and will generate more than 15,000 megawatt hours of power per year — about 5 percent of the electricity used on campus annually. Finally, the solar carports will be a catalyst for additional renewable projects on campus.
The installation of the massive solar array is consistent with the university's Energy Transition Plan to invest in sustainable energy research, improve the environment on campus and contain overall energy costs.
Construction of the solar arrays on the five campus parking lots began in March 2017, and work was completed over the spring, summer and fall. The arrays became fully functional and operational in December, keeping with the original timeline projected by the university.
"We're pleased to complete this project within 2017 — with tremendous thanks to our partners at Michigan State University, 1st Source and Inovateus," said Jon Schintler, vice president of Project Finance & Development at Alterra, in a recent statement. "We're looking forward to further growth of our U.S. solar business and many successful years delivering clean power to MSU."