T-SLAB® Puts Tindall at the Head of the Class
When Western Carolina University (WCU) needed a solution to increase their on-campus housing accommodations, they developed a plan for constructing three new multi-story dorm buildings. These structures needed substantial resiliency to stand the test of time in Cullowhee, North Carolina's harsh, mountainous climate, but they also needed to be offered under a swift construction schedule to accommodate the university's rapidly growing student body. With top priorities of speed, quality, and performance, WCU selected Tindall to deliver the perfect total precast solution on time and within budget — which was a challenge. But one Tindall could handle.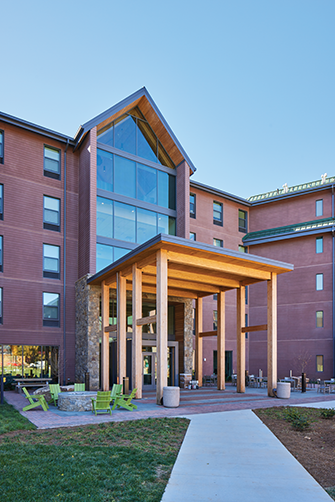 Their engineering expertise and responsiveness made Tindall the perfect candidate for getting this job done, and their complete team mentality while coordinating with the Vannoy Construction team allowed the crew to bring these WCU dormitories to life in just under eight months.
"From day one, [Tindall's] team worked collaboratively with Vannoy's to make sure the project was done correctly," said Caitlyn Jones of Vannoy Construction. "There were some learning curves on this job, but Tindall approached each obstacle with a team mentality. They cared about the overall success of the project as much as Vannoy did."
To meet the project's aggressive construction schedule, Tindall leveraged the Tindall Superior Lightweight All-Purpose Beam (T-SLAB®) as the floor system for all three dormitories. This was a first for the system, as no other project leveraging T-SLAB had been both multi-story and multi-building in scope.
"I was extremely impressed by the team at Tindall and their T-SLAB system," said Jones. "The system itself saved so much time on the project schedule, and the final buildings looked awesome."
Utilizing this system allowed the Tindall team to cast mechanical, electrical, and plumbing (MEP) components like electrical conduits and boxes directly into the slabs, and though the process required more coordination with the project team on the front end, it helped to save on-site costs and compress the construction timeline, allowing for interior work to begin earlier than expected and cheaper than it would have been otherwise.
Additionally, total precast construction enabled early access for other trades, further accelerating the overall construction process.
"Tindall's system provided the owner with both savings and the quick erection of the buildings, which allowed us to meet the owner's timely schedule," said Jones. "I don't think any other type of construction would have allowed the project to finish on time."
Project Details:
Specifications
• 419,063 square feet
• 201,220 square feet of T-SLABs
• 3 multi-story dormitories
• Erection start 2/15/21; Finished 10/8/21
Components
• 1,694 precast concrete pieces
• Insulated wall panels
• Beams
• T-SLABs
To bring these nearly 420,000-square-foot total precast dormitories to life, Tindall produced nearly 1,700 precast concrete components, including load-bearing insulated wall panels, columns, beams, and over 200,000 square feet of T-SLABs. The exterior of these structures featured colored concrete with repetitious horizontal reveals that perfectly complemented the post-applied stone masonry accents. By leveraging T-SLAB and working side-by-side with Vannoy's project team, Tindall helped deliver these structures within budget and ahead of schedule.
"We had the privilege of actively working with their team for over two years," said Jones, "and Tindall continued to be as responsive at the end of the job as they were in the beginning. I would happily work with Tindall again on another project." 
Tindall's work with Western Carolina University is a testament to its commitment to providing high-quality solutions. Through innovative design and time-saving measures, like the use of casting boxes and conduits in the wall and ceiling panels, Tindall was able to streamline the construction process, ensuring other trades could begin their work as needed and that the project, as a whole, was completed ahead of schedule.
Additionally, in utilizing T-SLAB, Tindall was able to create a fantastic-looking, cost-effective solution for their client that will stand the test of time for many decades to come.