Wyoming Facilities Director Builds More than Schools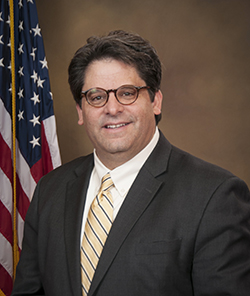 The Wyoming State Legislature established the School Facilities Department (SFD) in 2002 to oversee construction of K-12 schools throughout the state. Since then, Wyoming has built more than 75 new schools and spent an estimated $3.5 billion on the construction, renovation and maintenance of its educational facilities. However, when Bill Panos became director of the SFD in November 2013, most of the challenges he faced had less to do with building schools and more to do with building trust.
Frequent changes in leadership, unclear policies and a perceived lack of flexibility had strained the agency's relationship with stakeholders. "Getting schools built wasn't the issue," Panos explained. "Unfortunately, the department had become an enigma of sorts, mainly due to diminishing trust and confidence among our school district clients and state legislators."
Panos immediately set out to rebuild those relationships by visiting every school district in the state and meeting with school superintendents, legislators and board members.
"Wyoming is a face-to-face state. It's important to get on the road and get in front of people. That's the most effective way to create relationships," Panos said.
In addition, Panos restructured the SFD's project management team to engender more collaboration with school district staff. This new structure has helped project managers gain additional insight into what their districts need. "My hope is that school district staff start to view our project managers as their project partners," Panos added.
Prior to joining SFD, Panos served as the school facilities director for Washington State, where he managed an annual capital budget of $600 million and oversaw state trust lands. He also made a point of visiting each of Washington's 295 school districts, a venture that taught him the importance of maintaining a state presence in the local communities. That experience is one reason Panos has asked a representative from SFD to attend all school groundbreaking and grand opening ceremonies, and why each school district receives special recognition from the state to mark such an occasion. For example, when opening a new school, districts receive a proclamation signed by the governor.
"It's great to see their faces when we give them the governor's proclamation," Panos said. "Communities are so thankful to have the state's recognition and support."
Aside from school districts, the SFD also needed to work on strengthening its relationship with Wyoming's construction industry. Panos arranged for the agency to partner with the Wyoming Construction Coalition (WCC) and co-host an ongoing, statewide conference for construction industry professionals.
"I want our construction, contracting and architectural community to be just that — a community," Panos explained. "We need to understand that we're all connected and we all have a stake in providing our children with quality educational facilities."
Moving forward, nurturing relationships will continue to be a priority for Panos and the SFD staff as a whole. "We're not just responsible for building schools," Panos added. "We need to build productive, meaningful relationships with everyone involved in the school construction process."
Anthony Hughes is the public information officer for the Wyoming School Facilities Department. His background includes more than 25 years of experience in marketing, education, communications and copywriting.