Baylor Residence Halls Undergo Transformation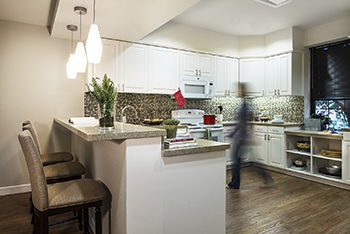 DALLAS — Baylor University is completely upgrading its student housing offerings, with a plan to renovate 10 residence halls over the next eight years. South Russell Hall is the first to undergo the transformation and was completed in August at a cost of $8.5 million.
KSQ Architects, with offices in Tulsa, Okla., served as the architect of the newly opened 222-bed residence hall. The hall opened for female residents only but next fall will begin accepting both male and female residents. Next fall, the facility will also include the Education Living-Learning Center, a teaching community for students.
There were two main goals for the renovation, said Sean Studzinski, AIA, principal at KSQ Architects. The first was updating the 50-year-old residence hall to attract students to live there. Second, the university wanted to incorporate a living-learning environment into all of its renovated residence halls as part of the transformational student experience the school wants to provide. As such, the building features faculty-in-residence apartments, study lounges, a classroom and seminar room, in addition to the traditional double student rooms and community baths.
"Key design elements included study lounges that are a glassy 'fish bowl' concept that KSQ has designed on other campuses," Studzinski said. "These transparent spaces allow students to model good study habits in this 'see and be seen' environment."
Natural light was brought into the corridors to keep hallways from feeling dark, while community kitchens and a recreation and game-room area in the basement enhances the residence hall's sense of community. A central, open staircase connects all floors to the basement recreation area, which allows that space to feel more connected and accessible to the rest of the building. Each floor also features its own color palette through paint and floor coverings to create a unique identity. Studzinski added, "The community kitchens are large, featuring a full-size refrigerator and oven with bar-top seating so that students can easily cook together and build relationships through the process."
The student rooms — 19 of which are single occupant, while the others are double — include moveable furniture such as a fully loftable bed, desk and chest of drawers. The project also included a new laundry area and vending machines, a fitness room on the basement level, and new and redesigned community bath areas with lockable shower entry doors.
"Like many universities, the budget presented some challenges for the client and the design team," said Jeff Doyle, Baylor University's Dean for Student Learning and Engagement. "KSQ continually listened to Baylor's input on what they wanted in this building and worked to minimize the loss of priorities to ensure the spaces still felt like somewhere a college student could call home."
Construction on North Russell Hall is currently underway, while renovations to Martin, Penland, Collins, Alexander, Allen-Dawson and Memorial halls will soon follow, according to the university plan. All of the Baylor residence hall renovations will include faculty-in-residence apartments that, at approximately 2,400 square feet, provide faculty and their families a space that truly feels like home.
"We have kept our focus creating a transformational student experience, rooted in opportunities for positive peer leader, faculty and staff influence," Doyle said. "With KSQ's help, we have taken an almost 50-year old building and recreated it as a home for learning, friendship and growth that will serve our students for another 50 years."